Want Work? Network. Stanbridge College Students Find Opportunities at the Allied Health Career Fair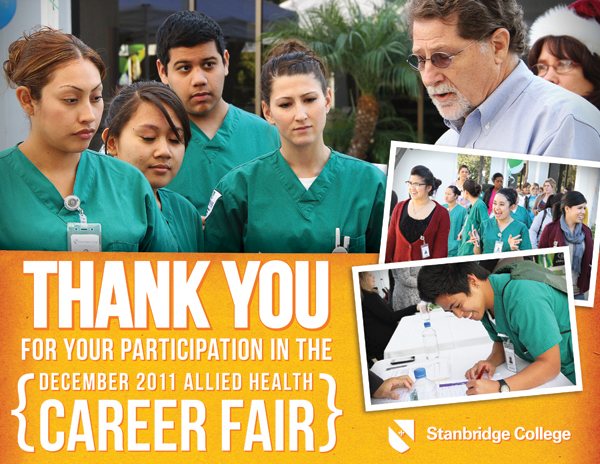 On December 8, 2011, the Stanbridge College Vocational Nursing and Occupational Therapy Assistance students met with over 30 employers at the Allied Health Career Fair. Students and alumni were able to network with organizations including rehabilitation centers, acute hospitals, home health facilities, medical offices, hospice care, residential care and skilled nursing facilities in Orange County.
As resumes and contact information were exchanged, students and alumni were able to gain information about potential job opportunities and future careers.
According to Fatima Ashraf, Stanbridge College Vocational Nursing Alumni, "I recently attended Stanbridge College's Career Fair and it never seems to disappoint. There was such a wide variety of employers who all greeted me with a smile on their face and gave me a lot of valuable information. The Stanbridge staff was so helpful and easy to approach about any and every question I had, and even personally introduced me to a few of the employers! From the staff to the various employers, I felt like I was among friends!"
Stanbridge College Career Services Officers were on hand to help the students navigate the fair, find the right employers to talk to and explore new options for their career path.
According to Arman Goshtasbe, Assistant Director of the Career Services Department, "We strive to ensure that our career fairs provide our students and alumni with a comfortable environment to meet potential employers. Students are able to not only learn about career options but also gain experience with the different hiring processes that each employer has. We feel that if students understand what is valuable to employers they are able to better prepare themselves to enter the work field."
Stanbridge College Career Services offers students and alumni a wide variety of benefits including resume preparation, and mock interview sessions. The Stanbridge College Alumni Association also provides alumni with networking events, workshops and life-long career placement. To learn more about Stanbridge College Career Services please visit www.stanbridge.edu.