Project Hope School Receives Gifts of Christmas Warmth from Stanbridge College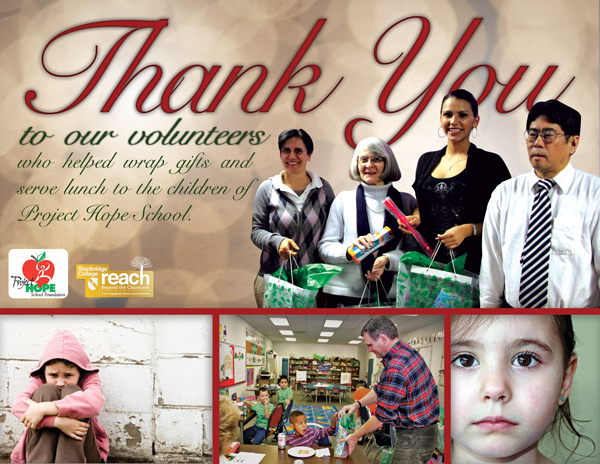 Stanbridge College recently provided the students of Project Hope School Foundation with donations of Christmas gifts. Students, staff and faculty gathered together to wrap up over 50 Christmas gift bags including sweaters, toys and school supplies. Stanbridge College volunteers then delivered the gifts and hosted a pizza part for the children, ranging from Kindergarteners to Eighth graders, and staff of Project Hope.
Stanbridge College would like to thank all of the students, staff and faculty who helped wrap gifts and serve lunch to the students of Project Hope.
According to Vocational Nursing student, Yvonne Williams, "It has been said that there is always someone worse off than you; but it brings great joy to bless anyone especially homeless children!  I had the privilege to serve lunch and pass out presents to the children of Project Hope. To see their faces light up when they found out they could get seconds on the pizza and that we had gifts for them was priceless. I appreciate Stanbridge College for their continued outreach to the community. Being a part of Stanbridge College not only gives me a great education but an opportunity to give back."
Stanbridge College has worked with the children and families of Project Hope School on several occasions. The staff and students of Stanbridge have provided lunches and hosted charity drives for school supplies, clothing and household items. Last spring, Stanbridge hosted a field trip for the children to visit the campus to learn about college life and Stanbridge's Vocational Nursing, Information Technology and Occupational Therapy programs.
Stanbridge College's REACH initiative provides students with opportunities to give back to their local Orange County and global community while earning credit towards coursework in a structured environment.
Continue to REACH
To learn more about Project Hope School, please click here to visit www.projecthopeschool.org.
To learn more about Stanbridge College REACH, please click here to visit REACH online.