Stanbridge College Fall Favorite Charity Contest: Submit your Favorite Charity today on Facebook!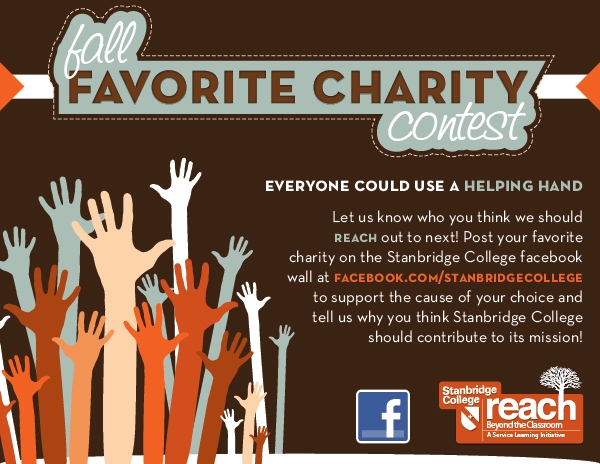 Standbridge College announces the quarterly Favorite Charity Contest where students, faculty and staff are encouraged to nominate their favorite charity and tell us why the Stanbridge community should contribute to its mission.
Please post a nomination for your favorite charity on the Stanbridge College Facebook page. All Facebook submissions will be a part of the final list of charities considered by Stanbridge College.
Last quarter's favorite charity Stanbridge College raised over $1250 for Doctors Without Borders and their relief efforts for the victims of the famine, drought and political issues in Somalia. Stanbridge has also donated time, funds and supplies to a wide variety of organizations including Convoy of Hope's disaster relief for Joplin, Missouri, Shelterbox's Japan Relief Project, Project HOPE School, American Red Cross Society and Habitat for Humanity.
The Favorite Charity Contest is part of Stanbridge College's REACH – Beyond the Classroom Service Learning initiative. The REACH initiative provides students with opportunities to give back to the community while earning credit towards classroom grades in a structured environment.
To learn more about REACH, please visit www.stanbridge.edu. For more information and photos from REACH events please visit Stanbridge College on Facebook.