Stanbridge Nursing Students Provide Free Medical Services to the So Cal Public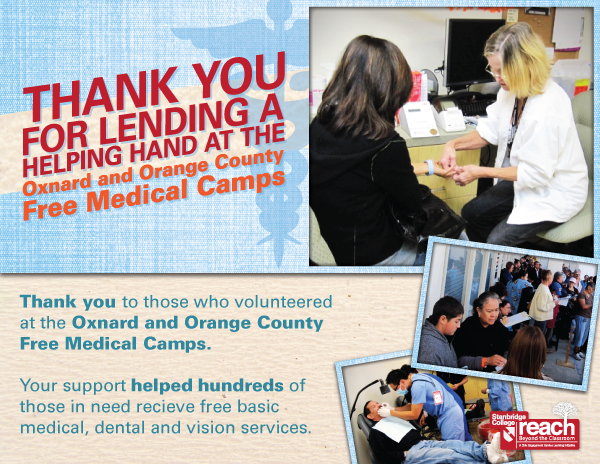 Stanbridge College nursing students recently volunteered their time and nursing skills at the 2011 Annual Oxnard Free Medical, Dental, and Vision Screening Camp on October 16th and the Orange County Free Medical Camp hosted by Mariners Outreach on October 22nd. Both camps provided basic medical and dental services to children and adults who are not able to receive medical attention on a regular basis.
According to Yvonne Williams, a current vocational nursing student at Stanbridge College, "I had an amazing time volunteering at the Oxnard Medical Camp. There were hundreds of people there all needing some form of medical care. We saw 96 patients in 6 1/2 hours! The people were grateful for free heath care and the doctors were grateful that they had competent assistants. We truly had team work and everything went over flawlessly. I wouldn't hesitate doing it again. Thanks Stanbridge for affording me this unforgettable opportunity!"
Stanbridge College offers a Vocational Nursing Diploma for students entering the nursing profession. Students can complete the program in 1 to 2 years as they take classes during the day, evening and weekends. Students are able to gain real-world nursing experience from qualified instructors, clinical sessions in the Stanbridge College Professional Clinical Nursing Lab and clinical work at partner hospitals and medical centers around Orange County. With an unyielding commitment to multi-term NCLEX-PN exam preparation, Stanbridge has an extremely high rate of successful licensure for its VN students.  Stanbridge College maintains one of the highest continuous pass rates on the NCLEX-PN National Nursing Board Exam in California since 2007 with a 97% cumulative pass rate.
Stanbridge College also offers an online RN to BSN degree completion program. With no physical campus learning or clinical sessions required, the Stanbridge College RN to BSN degree can be completed online in as little as 18 months. Students are able to enroll on a continual basis throughout the year with courses starting every 5 to 6 weeks. The program offers a number of nursing courses including Pathophysiology, Advanced Physical Assessment and Evidence-Based Practice. These courses are crafted to help students prepare for the future of nursing in the health care industry. Other courses, including Business Communication for Healthcare and Healthcare Informatics help students gain skills for inside and outside of the examination room.
All Stanbridge College students, staff and faculty are encouraged to participate in community service events through the REACH – Beyond the Classroom Service Learning initiative. REACH provides students with opportunities to give back to their local Orange County and global community while earning credit towards coursework in a structured environment.
To learn more about Stanbridge College's Vocational Nursing Diploma, online RN to BSN degree completion program and REACH, visit the Stanbridge College at www.stanbridge.edu.