October Blood Drive: Sign up today to support the Red Cross on 10/11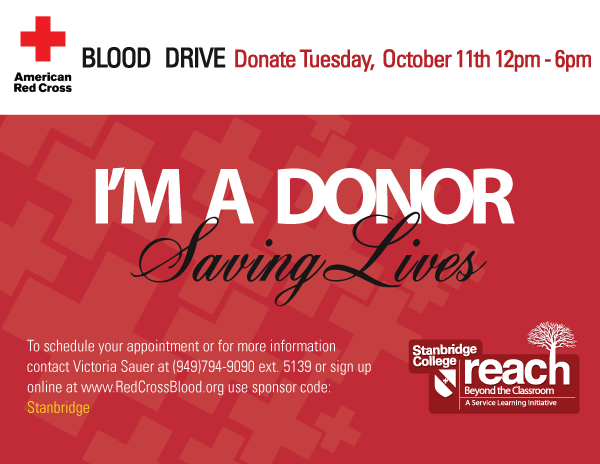 Vampires aren't the only ones looking for blood this Halloween season! Donate blood at the Stanbridge College Blood Drive on Tuesday, October 11th.
Last quarter, Stanbridge College assisting in saving over 50 lives by donating 18 units of blood! Let's work together to donate even more!  Help Stanbridge College REACH out to support the American Red Cross Society and their efforts in aiding disaster areas, community services for the needy, and the collection, processing and distribution of lifesaving blood. The Red Cross bloodmobile will be parked in the Stanbridge College parking lot from 12:00pm to 6:00pm.
Ineligible to give blood? Due to certain limitations, some people may be ineligible to donate blood. But there is still work to be done! Volunteer to help the Red Cross with administration tasks on the day of this event.
Date: Tuesday, October 11, 2011
Time: 12:00pm – 6:00pm
Location: Stanbridge College Parking Lot
Registration: There are multiple ways to register for your appointment:
1. Schedule your appointment online at www.redcrossblood.org with the Sponsor Code: "Stanbridge"
2. Email Victoria Sauer at vsauer@stanbridge.edu with your name, email, phone and requested date and time.
Identification is required to donate blood.
Free Coupons and Tickets!
All participants of the blood drive will receive a FREE $5.00 coupon to El Torito and two (2) complimentary tickets to the Laugh Factory in Hollywood or Long Beach!
See you at the blood drive*!
*No vampires allowed.