Standing Up for Homeless Veterans at the OC Stand Down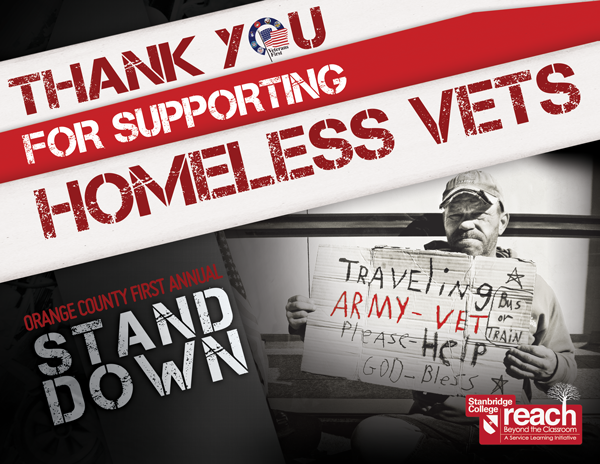 Last week, Stanbridge College students and staff volunteered at the First Annual Orange County Stand Down for homeless and low-income veterans. The event was hosted by Veterans Firsts OC. The OC Stand Down provided veterans in need with essential services such as medical, dental, and vision exams, employment and housing assistance, as well as Veterans benefit management and identification. Stanbridge College staff and students volunteered in administrative tasks, served food, and assisted with tent assignments.
According to Manager of IT Infrastructure and Logistics at Stanbridge College, David Maden, a Retired Marine who served 22 years, "I was happy to see current military members and veterans working together to help our fellow veterans in need. The Orange County Stand Down gave me a chance to give back to those veterans."
"We are very pleased to be able to lend our support to the homeless veterans of Orange County," stated Yasith Weerasuriya, President of Stanbridge College. "We have many staff, students and alumni of our school that are and were members of the military. We like to honor them and the military members in need as we give back to our Orange County community."
Stanbridge College's commitments to long-term community partnerships, creating a positive impact on local and global communities and incorporating Civic Engagement and Service Learning as an integral part of the curriculum are exemplified in its REACH – Beyond the Classroom initiative. The REACH initiative provides students with opportunities to give back to the community while earning credit towards coursework in a structured environment. To learn more about Stanbridge College's REACH – Beyond the Classroom, visit the Stanbridge College REACH program.
Continue to REACH
Learn more about Veterans First OC at http://www.veteransfirstoc.org. To learn about the 1st Annual OC Stand Down visit: http://ocstanddown.org/.