Reading the Rewards: Stanbridge Nursing Cohort FTO Gathers 200+ Children's Books for CHOC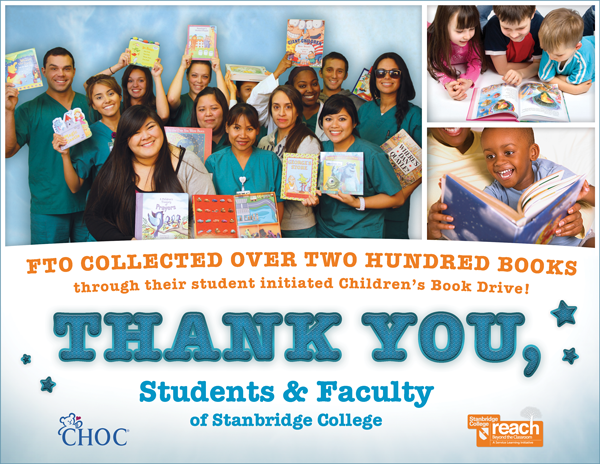 Stanbridge College nursing students from cohort FTO organized and gathered over 200 picture books to benefit the children of CHOC Children's Hospital of Orange County. Within a few months of graduating, the vocational nursing students wanted to aid CHOC Children's based on their previous clinical work and lessons in pediatrics and their interest in community service. They asked their fellow students, instructors and Stanbridge College staff to donate children's picture books in either English or Spanish.
Stanbridge College encouraged college-wide participation in the book drive as part of its REACH – Beyond the Classroom Service Learning and Civic Engagement initiative. The REACH initiative provides students with community service opportunities enabling them to give back to their local Orange County and global community while earning credit towards coursework in a structured environment.
Noelle Andres, nursing student and leader of the Children's Picture Book Drive for CHOC stated, "We really wanted to help out CHOC for the children's education. We felt it was important to carve out the time to give back to our Orange County community. Even though it was a lot of hard work to balance this with our courses, in the end it was very rewarding."
According to Yasith Weerasuriya, "We are very pleased that the nursing students of FTO took the initiative to organize this book drive for CHOC. On their own time, the students worked with our REACH team and on their own to encourage fellow students to participate. Their accomplishment is truly inspiring and we are very happy to have been able to help facilitate their civic engagement for this wonderful Orange County organization."
Continue to REACH

Stanbridge College encourages its community to learn more about CHOC Children's to support children in need. To learn more about Stanbridge College's REACH – Beyond the Classroom, please visit the Stanbridge College REACH program.