Be a Hero for those in Need: Serving the Homeless with Stanbridge College in September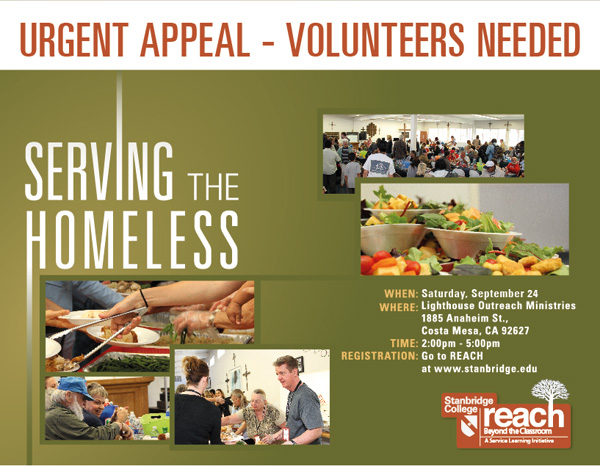 On September 24th, Stanbridge College will be working with Mariners Outreach to serve lunch to those in need of a warm meal. Stanbridge College REACH is asking you to be a hero for hundreds of homeless and low-income families in Orange County by becoming a volunteer today.
Date: Saturday September 24, 2011
Time: 2:00pm-5:00pm
Location: Lighthouse Outreach Ministries: 1885 Anaheim St. Costa Mesa, CA 92627
Register: Click here to register on the REACH Upcoming Events Website
In addition to preparing and serving the food, we are encouraging people to drop off donations. If you are able to donate, here are some suggestions:
• brownies, cookies or candy
• sodas – these are such a treat for these men, women and children and they go so fast!
• clothing items – especially socks, old back packs and toiletry items.
• blankets, plastic bags and cloth bags
Stand up, stand out and be a hero for your local community.