Stanbridge College Raises Over $1,450 for Convoy of Hope and the town of Joplin, MO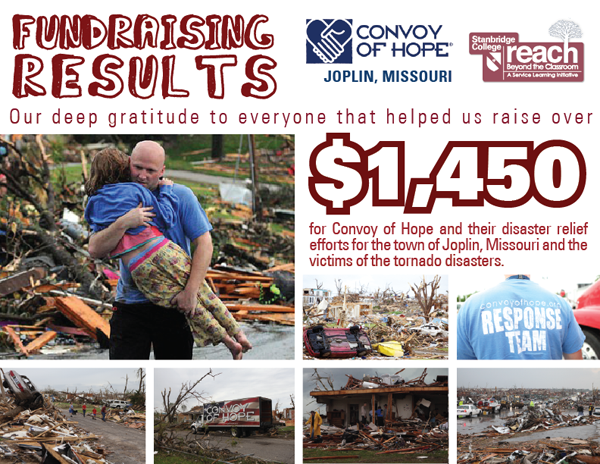 Stanbridge College students, faculty and staff raised over $1,450 for Convoy of Hope and disaster relief for the town of Joplin, Missouri.
Stanbridge College holds quarterly Favorite Charity contests in which students, staff and faculty submit and vote on non-profit organizations to help local and global communities. This quarter, Stanbridge College chose to raise funds for Convoy of Hope's disaster relief for the people of Joplin, Missouri who were recently the victims of several disastrous tornados. Convoy of Hope is a non-profit organization that provides children's feeding initiatives, community outreaches, disaster response and partner resourcing around the world.
Last quarter, Stanbridge students supported Shelterbox and disaster relief effort in Japan for the victims of the tsunami and earthquake.
Stanbridge College would like to thank all of the students and faculty who participated in the fundraiser. It is your support and dedication to community service that allows REACH – Beyond the Classroom Service Learning initiative to excel and thrive.
Continue to REACH
To continue to support Convoy of Hope and their disaster relief program in Joplin, Missouri, please visit donate.convoyofhope.org.
To learn more about REACH, register for upcoming community events and view photos of past events, please visit Stanbridge REACH community service online.