Stanbridge College Sponsors Foster Youth Graduation at Orangewood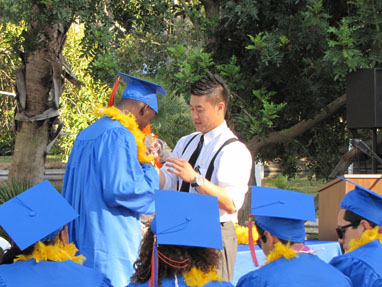 Stanbridge College was pleased to be a supporter of the graduation ceremony of twenty eight students of the Orangewood Children's Foundation, an organization in Orange County, California that works to successfully transition emancipated foster youth, support children in foster care, strengthen at risk families and break the cycle of child abuse.
Stanbridge College supports a wide variety of community projects through its REACH program. REACH is a Service Learning initiative in which Stanbridge College students leverage their educational skills to help support their local Orange County and global communities. The Orangewood Children's Foundation graduation ceremony took place on June 3, 2011 at the Bridges Banquet Center in Irvine, California. Stanbridge College provided the high school graduates and over 50 guests with the post-ceremony dinner.
Yasith Weerasuriya, President of Stanbridge College stated, "We congratulate the graduates of Orangewood on this momentous occasion. We are honored to share in the celebration of their commencement and their personal achievement. The Orangewood Children's Foundation is a valuable part of Orange County, providing the resources for foster and at-risk children to succeed, in spite of their challenging pasts. These children have a much wider range of opportunity with Orangewood's guidance. We wish them all success in achieving their future goals."
We are truly grateful for the support from Stanbridge College and applaud their concern for the challenges our foster youth face," said Orangewood C.E.O. Cal Winslow. "Stanbridge's sponsorship of our graduation ceremony shows our teens that there are organizations in the community that care about their success."
To learn more about Stanbridge College's REACH – Beyond the Classroom, visit the Stanbridge College REACH program online.