URGENT APPEAL! Volunteers needed to serve the homeless!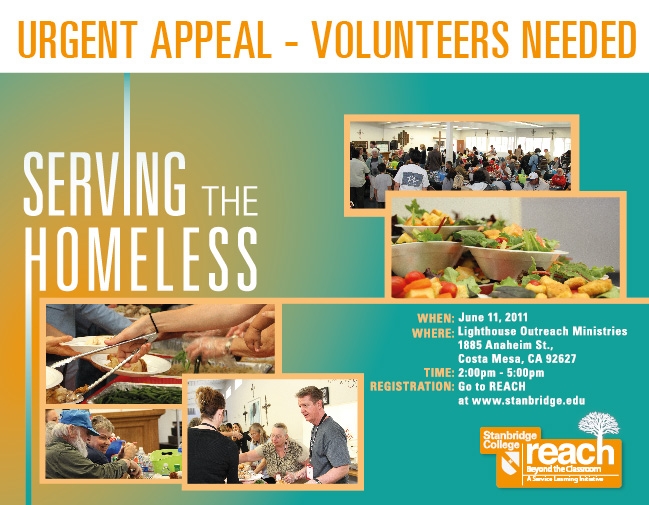 Event: Stanbridge College Volunteering to Serve Homeless
Date: Saturday June 11, 2011
Time: 2:00pm-5:00pm
Location: Lighthouse Outreach Ministries: 1885 Anaheim St. Costa Mesa, CA 92627
Registration: Current students register online or email reach@stanbridge.edu
Stanbridge College is sending out an urgent appeal for volunteers to help on Saturday, June 11 at the Lighthouse Outreach Ministries in Costa Mesa to serve the homeless with a warm meal. We will be serving 350-450 homeless people and desperately need extra hands to ensure everyone is fed!
In May, the Stanbridge Community provided their time to help serve the homeless. Click here to watch the inspiring video of the event.
Stanbridge College will be helping with the costs of the event. If you would like to bring items of your own to give, here are some suggestions:
Brownies, cookies or candy
Sodas – these are such a treat for these men, women and children and they go so fast!
Clothing items – especially socks, old back packs and toiletry items.
Thank you for your involvement in serving the homeless.  It is a privilege and honor to serve alongside you.