Scholarship Stories: Nursing Student Eren Perez
Congratulations to Stanbridge University Orange County campus Nursing student, Eren Perez, on her Dr. Jonathan Wu Excellence in Nursing scholarship. Ms. Perez is featured in this week's Stanbridge University Institutional Academic Scholarships Spotlight to encourage all students to find the right scholarship that will help them continue their path and achieve their goals.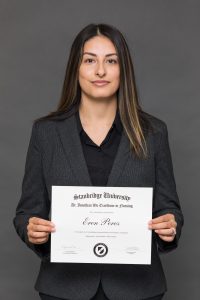 Why do you want to be a nurse? 
I became a nurse to help improve the way healthcare is being done. I've loved medicine since an early age and love seeing how things can change for better. And of course, to make an impact in someone's life; I really enjoy when people feel a little comfort or care under my supervision.
What advice do you have for others wanting to apply for scholarships?
The application process was not as hard as I expected. Writing about my life or reasons to apply was straightforward. I will definitely recommend it to my peers. I personally heard about this from another student who received previous scholarships with little to no stress.
What is your best study tip?
I would say that the best way I retain information is reading before lecture and then revisiting the topics that were taught later that same day.
When you aren't studying, what do you like to do for fun?
For fun, I like to lift weights and read any kind of book. Right now I am reading about gut health and last month I was reading about American history.
What are you planning to do once you graduate from Stanbridge University? 
I am planning to start working after passing the NCLEX. Of course, a small vacation would be wonderful too!
Interested in applying for a nursing student scholarship?
Stanbridge has many scholarship opportunities available for students, including opportunities for other degree programs. Scholarship types include:
Institutional (All Programs)
ATI (Nursing)
Jonathan Wu Excellence in Nursing (Nursing)
Degrees of Skill (OTA)
For more details on how to apply, please email outreach@stanbridge.edu.
Winter 2021 scholarship applications are due December 3, 2021.