Scholarship Stories: Nursing Student Joelle Houston
Congratulations to Stanbridge University Orange County campus Nursing student, Joelle Houston, on her Dr. Jonathan Wu Excellence in Nursing scholarship. Ms. Houston is featured in this week's Stanbridge University Institutional Academic Scholarships Spotlight to encourage all students to find the right scholarship that will help them continue their path and achieve their goals.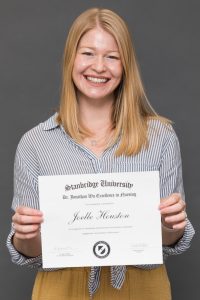 Why do you want to be a nurse?
I want to be a nurse because I am passionate about health science. I want to live a life that is compassionate and that makes a difference in the lives of others. I want to serve my community with a skill set that brings healing and restores life.
What advice do you have for others wanting to apply for scholarships?
The scholarship application process was straightforward and easy to apply for. It was not difficult to find where to apply, and the availability of new scholarships are made known to the students. My advice to students would be to actually apply because there is a good chance you will qualify.
What is your best nursing school study tip?
When studying, I try to not procrastinate, that way I can absorb the information without feeling stressed. I try to write out my notes for each subject so that I can review them before midterms and finals. I try to understand concepts rather than just memorizing material. When I do have a hard time understanding a subject, I turn to YouTube videos where there are abundant resources and educational material for nursing students.
When you aren't studying, what do you like to do for fun?
When I am not studying, I like to volunteer as part of a HELP program that focuses on preventing delirium in elderly patients who are hospitalized. I enjoy volunteering at local food pantries and distributing groceries to families in need. I try to get away to the mountains or the beach with my dogs as much as possible to enjoy fresh air and nature.
What are you planning to do once you graduate from Stanbridge University? 
I'm planning to work in Labor and Delivery as a Registered Nurse (RN).
Interested in applying for a Stanbridge scholarship?
Stanbridge has many scholarship opportunities in different programs available for students. Scholarship types include:
Institutional (All Programs)
ATI (Nursing)
Jonathan Wu Excellence in Nursing (Nursing)
Degrees of Skill (OTA)
For more details on how to apply, please email outreach@stanbridge.edu.
Winter 2021 scholarship applications are due December 3, 2021.