Scholarship Stories: Vocational Nursing Student Alexandria Partridge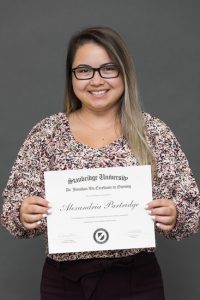 What are you planning to do once you graduate Stanbridge University?
I plan to work as an LVN in an Urgent Care, go back to school to earn my RN/BSN and work in the Emergency Department.
Why do you want to be a nurse?
I want to be a nurse because I have a huge desire to help and care for people in times of need. I am also a person who thrives under pressure and loves to be challenged, so I've found the nursing career extremely rewarding.
What advice do you have for others wanting to apply for scholarships?
The application process was so easy and straightforward. My advice – apply! You never know – you could be chosen to get paid for good grades and attending higher education.
When you aren't studying, what do you like to do for fun?
I love to go to the beach, find good breakfast and coffee places, color stress relief coloring pages, and go to Disneyland with my kids!
Stanbridge has many scholarship opportunities available for students. Scholarship types include:
Institutional (All Programs)
ATI (Nursing)
Jonathan Wu Excellence in Nursing (Nursing)
Degrees of Skill (OTA)
For more details on how to apply, please email outreach@stanbridge.edu.
Winter 2021 scholarship applications are due December 3, 2021.