Stanbridge Alumni Spotlight: From PTA Student to Physical Therapist Assistant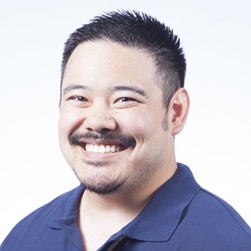 Stanbridge University is highlighting Alumni True Stories because we're proud of all of our hardworking graduates! To celebrate Physical Therapy month in October, we are featuring PTA graduate, Kevin Young.

Where are you working and what is your current role?
I am currently working at Kei-Ai Los Angeles Healthcare Center as a Physical Therapist Assistant.
Walk us through a typical day for you as a physical therapist assistant.
I typically have anywhere from 10-12 patients per day. I usually get into work around 6:30 and begin with document review of all my patients. Usually, by around 7:30 I start seeing patients. Treatment sessions are based off of the PT evaluation, but typically treatments are focused on improving ambulation, strength, balance and/or endurance.
What are the things that you love about working in physical therapy? 
One thing I love about working in this industry is seeing my patients go from being bed-bound to being able to sit up at the edge of the bed on their own, to ambulating. The progression of patients is always so great and satisfying to know that you had a direct part in that patient's road to recovery. It definitely takes a lot of patience though. Many times they're in pain and are really in no mood to move, but it's part of our job to help motivate them as well.
Why did you choose Stanbridge University's PTA program?
My older brother is an Occupational Therapist and he had many coworkers that went to Stanbridge University who had a great experience. It was the first time I had heard of the program, so I checked it out online. Everything worked out perfectly because the year I started the program was the first time the Irvine campus had two start dates in the same year for the PTA program. I began looking for programs in April/May of 2017 and had my first day of orientation at the end of August that same year.
How do you feel Stanbridge prepared you for what you are doing now? 
Stanbridge's PTA program was challenging. In my experience, it was much harder than getting my bachelor's degree. The staff has high expectations for every student. They really make sure that you know the information and that we practice, practice, practice.
What are your favorite Stanbridge memories, classes, or instructors? 
I have so many memories of Stanbridge. I made so many friends going through the program. We were all in it and struggling together, which really made us closer. The therapeutic exercises class was definitely one of my favorite/memorable classes taught by Instructor De Ruyter. I always had and have the utmost respect for Instructor De Ruyter and have always considered her as a mentor to me ever since that second term.
What advice do you have for new PTA students at Stanbridge?
The best advice I have for new PTA students is to be prepared for a tough and demanding program, but it is incredibly rewarding in the end. You just have to have the mental toughness to keep pushing when you hit the wall(s). One thing that really helped me through it was finding study partners that had the same goals, work ethic, and study habits that you have. Studying will take up the majority of your time, and you really need partners with you to help you study and help prepare for your competencies and practicals.
What are your future goals?
My main goal right now is to get as much experience as I can handle. However, further down the line, I really want to teach in a PTA program. That is really my long-term goal at the moment once I have enough experience.
Any final tips for people considering becoming a PTA? 
The Stanbridge PTA program gets you ready for the working world. Don't give up, just keep pushing. The staff is there to help and see that you make it to graduation. Use the student support resources that are available to you, especially if you find yourself struggling or in a situation where you have to remediate a class. But definitely get help before it gets to that point. You have to be proactive.
To view more inspirational stories, visit Alumni True Stories.
If you or someone you know is interested in becoming a Physical Therapist Assistant, visit the Stanbridge University PTA Program for more information.

Stanbridge Grads – we want to hear from you!
Email media@stanbridge.edu to share your story!