COVID-19 News & Tips: How to Protect Yourself, and Others
Nurses and healthcare workers are needed now more than ever. Keeping our healthcare staff healthy is a vital part of being able to fight this pandemic.
As a community, we all need to do our part to ensure we are following proper proto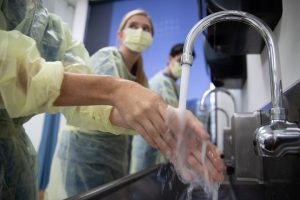 col to protect ourselves, and others, from COVID-19.
We understand during this time you may have a lot of questions or concerns, ranging from your own health to what you can do to help others during these unprecedented times.
To help save you some time, we have prepared a handy list of top COVID-19 precautions and action items you can use right away.
COVID-19 News & Tips: How to Protect Yourself, and Others
The Center for Disease Control (CDC) recommends the following steps to protect yourself, and others, from COVID-19:
Clean Your Hands Often

Wash your hands with soap and water for at least 20 seconds.

Avoid Close Contact with Others

Close contact means being within 6 feet of another person.

Stay Home if You Are Sick

If sick, you should only leave the house to get medical care.

Cover coughs and sneezes

Use either a tissue or the inside of your elbow to cover a cough or sneeze.
Immediately wash your hands with soap and water for 20 seconds.

Wear a Facemask if You Are Sick

If you are sick and around others, wear a facemask.
If you are not sick, a facemask is only needed if caring for someone who is sick.

Clean and Disinfect Regularly

Frequently touched surfaces (countertops, doorknobs, light switches, etc.) should be cleaned and disinfected daily.
During this time, everyone is doing their best to keep themselves, family and loved ones healthy. Always remember to complete the steps above to ensure you are contributing to fighting this virus!
Feeling inspired to learn more about how you can join the healthcare workforce? Learn more about how Stanbridge University's nursing and healthcare programs.