Financial Aid Help: 5 Tips for the Financial Aid Process at Stanbridge University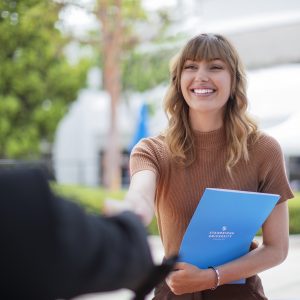 Starting at a new school can seem daunting! However, with some preparation and financial aid help, you'll be ready to start an exciting educational journey.
Because financial aid is an investment in your education and your future, finding the support you need throughout the process is certainly important.
Therefore, our Financial Aid team at Stanbridge Univeristy is happy to help you. You can meet with a Financial Aid Officer and receive individual, one-on-one guidance.
In addition, you can utilize our 24/7 online chat or access our online video library for more information!
But before your meeting, here are some things to keep in mind as you prepare to start the financial aid process:
Bring your support system!
Apply for an FSA ID.
Complete your FAFSA.
Come prepared with your 2017 and 2018 taxes and W2's.
Get ready to invest in your education!
Now, let's unpack some of these tips to help you get started.
Financial Aid Help Tips – Bring Support!
Above all, consider bringing a parent or loved one with you to your first financial aid meeting! Even if you're an independent student, having a support system will help make the process easier.
Financial Aid Help Tips – Applying for an FSA ID
First, in order to complete and submit a Free Application of Federal Student Aid – also called FAFSA – you will need to apply for a Federal Student Aid (FSA) ID. The Stanbridge University Admissions Team will walk you through this step. However, if you need additional assistance prior to your first Financial Aid meeting, get in touch with our Financial Aid team or utilize our new Online Chat feature!
Financial Aid Help Tips – Completing Your FAFSA
Once you have your FSA ID, the next step after that will be completing and submitting your FAFSA. Because it takes three business days for our office to receive a copy of your FAFSA, make sure to complete your FAFSA ahead of time!
Financial Aid Help Tips – Be Prepared!
If you are a dependent student, have your parents bring their signed 2017 and 2018 federal tax returns and W2's when they join you at your first meeting! If you are an independent student, have your 2017 and 2018 signed federal tax returns and W2's available, as well as your spouse's if you are married.
Financial Aid Help Tips – Invest in Your Future
Finally, financial aid is an important investment in your education. While it may seem like a daunting process, you are not alone – our Financial Aid team at Stanbridge University is here at every step of the way.
Find financial aid help and support when you need it most. To learn more about the Stanbridge University Admissions and Financial Aid process today, visit our website or call our FA Help Desk at 833-924-1628!