PTA Program Next Step for Kinesiology Graduates – Stanbridge University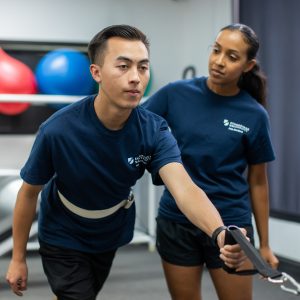 If you are looking for the next step after achieving a kinesiology degree, you might consider a career as a physical therapist assistant or PTA.
Kinesiology-driven careers like PTA are in high demand! According to the United States Bureau of Labor Statistics, the physical therapist assistant profession is projected to grow by 24% from 2021 to 2031.1
A degree or background in kinesiology offers a wide variety of in-demand career options! Kinesiology is the scientific study of physical activity and its "impact on health, society, and quality of life" (American Kinesiology Association). Careers in kinesiology include areas such as:
Coaches
Fitness trainers and instructors
Massage therapists
Athletic trainers
Recreational therapists
Physical therapist assistants and aides
Exercise physiologists
Chiropractors
And more
Kinesiology studies can often provide students with a fundamental understanding of nutrition, physical conditioning, the psychology of exercise in addition to hands-on techniques and exercises. Therefore, if you have a kinesiology background, you are perfectly positioned to pursue a career as a physical therapist assistant!
PTA Program Next Step – Kinesiology and Physical Therapy
If you're looking for your next step after achieving a degree in kinesiology, becoming a physical therapist assistant or PTA could be a rewarding option!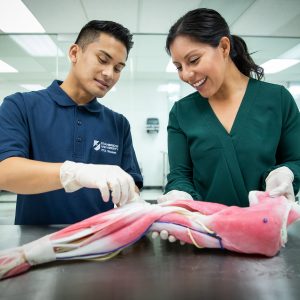 As the baby boomer generation ages, patients with chronic conditions continues to increase. As a result, PTAs, especially those with a background in kinesiology and movement study, are needed.
For example, as a PTA, you can use your kinesiology knowledge help people recover from injury or illness. This career requires curiosity, introspection, and logic in addition to patience, care, and empathy. With your degree, you can use your passion for exercise, physical movement, and human anatomy and physicality in a care and rehabilitation context. Consequently, you can help people move towards a successful recovery!
PTA Program Next Step – Why Stanbridge University?
Stanbridge University offers a comprehensive associate degree program in Physical Therapist Assistant or PTA. In 2018, Stanbridge's PTA program in Orange County achieved a perfect pass rate. This certainly sets the program apart in Southern California.
Furthermore, in addition to hands-on practice in on-campus therapy skills labs, Stanbridge also features an innovative virtual reality lab and synthetic cadaver lab.
In conclusion, if you have either a degree or background in kinesiology, consider an exciting career as a PTA!
Learn more about Stanbridge University's PTA degree program, offered in both Orange County and Los Angeles.
1Source: Bureau of Labor Statistics, U.S. Department of Labor, Occupational Outlook Handbook, Physical Therapist Assistants and Aides, https://www.bls.gov/ooh/healthcare/physical-therapist-assistants-and-aides.htm. As viewed on January 17, 2023.