Gifts That Give Back – Stanbridge University Delivers Holiday Cheer to Local Children's Hospitals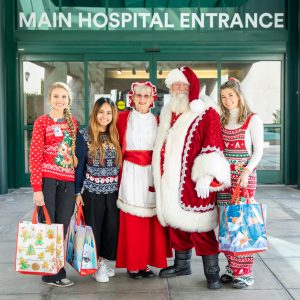 Looking for gift-giving that gives back to your community this holiday season? Stanbridge University aims to do just that.
Gifts That Give Back –Getting in the Spirit of the Season
First, Stanbridge University makes a sizable contribution to the community through holiday gift collection, wrapping, and donation each year.
For instance, during the holiday season, the Stanbridge outREACH community engagement program works with nurses at local hospitals and medical centers. Together, they compile a list of personalized, developmentally appropriate gifts for over 50 children who call these hospitals home.
Next, the Stanbridge community raised nearly $1,400 to purchase the gifts, which included socks, shirts, sweatpants, toiletries, toys, art supplies, sensory items, and books. Furthermore, and most importantly, our volunteer team delivered these items to children's hospitals across Orange County.
Above all, Stanbridge seeks to serve those who need it most.
Gifts That Give Back – Stanbridge University's Culture of Giving
In addition to holiday gift-giving, Stanbridge seeks to make a difference throughout the year.
For example, our five signature initiatives include: environmental rehabilitation, homeless population food security, disability community advocacy, childhood literacy, and animal welfare.
Support for Homeless and Hungry Families
1,400,000+ pounds of fresh produce and healthy groceries distributed for free to the hungry through The Free Pantry, a non-profit organization co-founded by Stanbridge
$198,000 raised to feed the homeless
62,400 warm meals prepared and served to the homeless at monthly dinner services
$30,000 raised for the Second Harvest Food Bank to help the mission to end hunger
Environmental Rehabilitation
16,000 pounds of trash removed from Southern California beaches through Kayak and Beach Clean-Up Events.
10,000 trees to be planted in Southern California with 500 trees planted by year-end
6,000 native plants planted at the Upper Newport Bay Nature Preserve
Disability Community Advocacy
1,500 service hours volunteered mentoring young adults with intellectual and developmental disabilities, with many starting new careers as a result
Substantial support provided for organizations such as the Special Olympics, Life Rolls On, assisting with adaptive surf camps, Ryan's Reach traumatic brain injury residence facility, and more
$2,300 raised for autism awareness and research
Increasing Childhood Literacy
100 Little Free Libraries to be built and established across Southern California
98 laptops donated to low-income, Title 1 schools
Furthermore, hundreds of dollars-worth of laptops were donated to Neutral Ground in Santa Ana to be distributed in the community
$2,969 raised to purchase school supplies for children in need
Animal Welfare & Advocacy
$31,957 raised to help animals in need who are still waiting for their forever homes
Free spay/neuter clinics in partnership with local no-kill shelters
1,547 animals provided with free or low-cost medical services by the Stanbridge School of Veterinary Science faculty and students
Gifts That Give Back –Making a Difference in the Community
To sum up, Stanbridge University hopes to transform the local and global community for the greater good. Therefore, our students emerge as not only confident healthcare professionals, but compassionate, creative leaders.
Finally, learn more about the Stanbridge outREACH community engagement program!