Stanbridge University Honored with 2019 CAPPS Excellence in Community Service Gold Award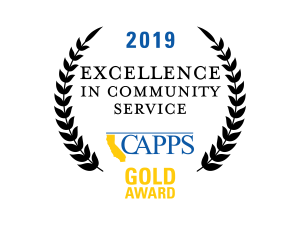 This April, Stanbridge University was honored to receive the 2019 California Association of Private Postsecondary Schools (CAPPS) Excellence in Community Service Gold Award for exemplary dedication to the ongoing development, implementation, and improvement of institutional community service initiatives.
The Excellence in Community Service Awards were designed and created by the California Association of Private Postsecondary Schools (CAPPS) to recognize member schools that have demonstrated exceptional commitment to their local community. Stanbridge University is focused on each student's ability to change their community and the world. As a CAPPS 2019 Excellence in Community Service Gold Award recipient, Stanbridge continues to shape a new generation of socially-conscious leaders by integrating community engagement throughout each program, which expands students' capacity for empathy and awareness of civic responsibility.
Since the launch of the award-winning outREACH program, the students and staff at Stanbridge University have had a vast and measurable effect on the community, addressing an array of issues such as food security, homelessness, public health, early childhood literacy, environmental preservation, and animal health and welfare.
Stanbridge University's signature initiatives provide exciting opportunities for student involvement and build the foundation for community transformation. In a key environmental preservation initiative, Stanbridge has pledged to plant 10,000 trees in Southern California in response to recent wildfire devastation. Another signature project is Stanbridge's ongoing partnership with Life College, a program that helps foster an environment where young adults on the autism spectrum can learn to lead independent lives with the help of meaningful and ongoing transition support. Stanbridge provides staffing, learning space, and facilities for Life College free of charge.
In another signature initiative, Stanbridge University has pledged to install 100 Little Free Libraries in lower socioeconomic areas across Southern California between 2018 and 2019. By providing necessary reading materials and resources, Stanbridge seeks to meet the needs of the most vulnerable such as isolated elderly, providing necessary reading material and resources in order to cultivate fellowship and build community. Additionally, in a focused attempt to help with childhood literacy, Stanbridge has initiated a plan to donate new laptops to local low-income, Title 1 schools with the goal of enhancing students' reading and learning experiences.
Other key Stanbridge University community service projects include:
Assisting individuals with disabilities at adaptive surf and skate camps with Life Rolls On
Providing therapeutic diving experiences for combat veterans with the Wounded American Veterans Experience Scuba or WAVES project.
Partnering with various animal rights organizations such as the wolf rehabilitation center Project Wildsong
Helping individuals with brain injuries regain functionality with High Hopes Head Injury Program
Teaching children with disabilities to ride bikes at the OC Bike Camp
Over the past seven years, Stanbridge students and staff have distributed over 1,400,000 pounds of fresh produce and groceries to the hungry and served upwards of 57,000 fresh meals to the homeless at monthly Feeding the Homeless events. Stanbridge has partnered with over 45 charitable organizations and co-founded The Free Pantry, a non-profit organization fighting hunger for homeless and impoverished families, and the institution continues to search for more opportunities to transform their community for the greater good.
This award was presented at the CAPPS 2019 Legislative Policy Conference in Sacramento on April 9, 2019. To learn more about Stanbridge University and see how you can help make a difference, visit our website.