Stanbridge College Awarded NAVTA Student Chapter and Advisor of the Year
The Stanbridge College student chapter of the National Association of Veterinary Technicians in America (NAVTA) was recently named Chapter of the Year by the awarding organization. Ms. Emma Cusack, RVT, Assistant Director of the Veterinary Technology program, was also recognized as Advisor of the Year.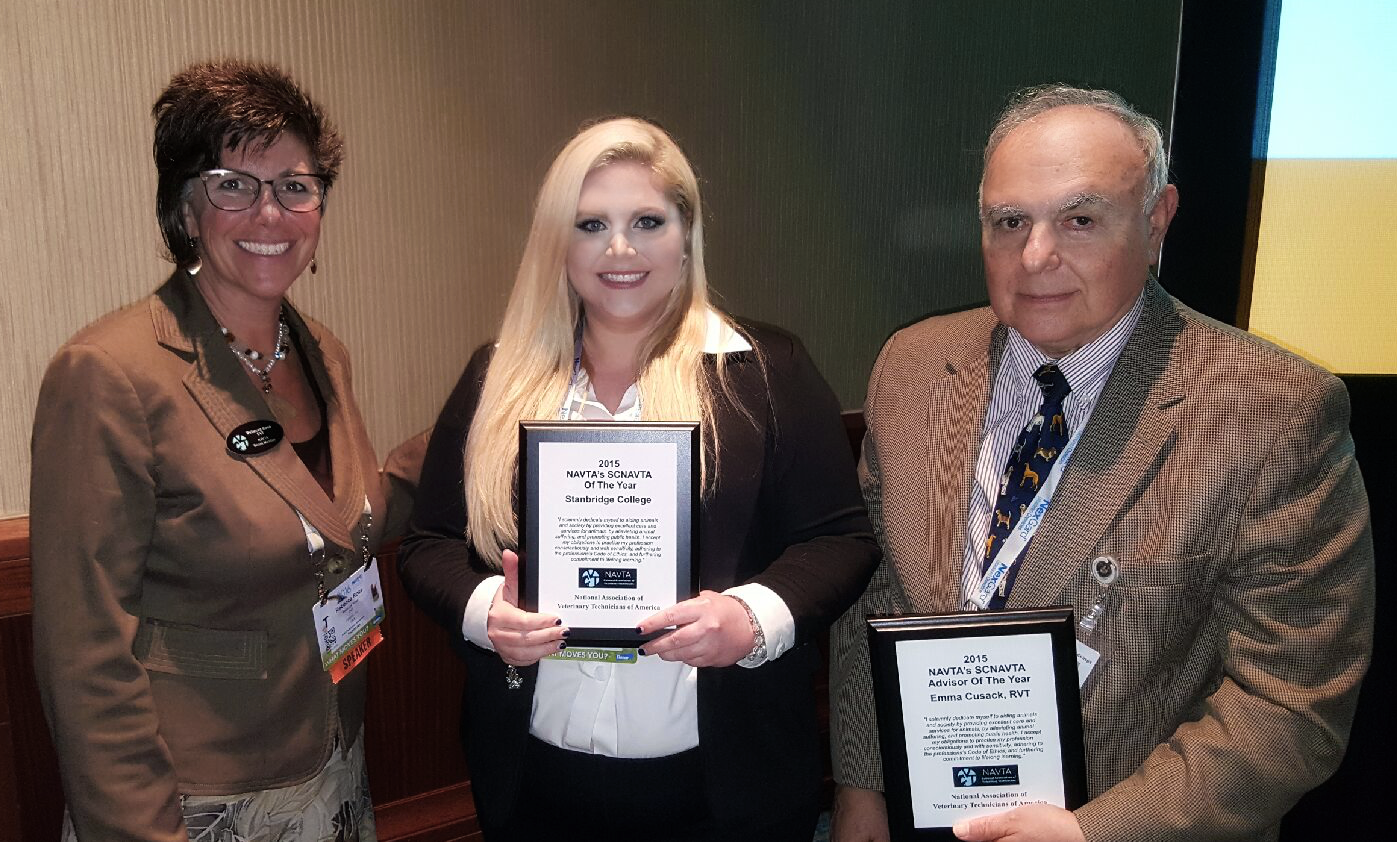 The student chapter of NAVTA at Stanbridge College wrapped up 2015 with a holiday-themed fundraiser to collect monetary donations to help the fire-displaced orangutans in Indonesia. The event featured a gift basket raffle, refreshments, and pet boutique items for sale, raising several hundred dollars by the end of the day. Chapter members also partnered with the college in December to collect toy and blanket donations for homeless pets and deliver the donations to a local rescue in Irvine.
Ms. Erin Mertan, the chapter's Vice President, said "The chapter is eager to begin more projects to benefit NAVTA and the profession as a whole, creating awareness of our chosen profession, raising funds for animal organizations, and helping students achieve their dreams. With a growing presence on campus, the SCNAVTA students endeavor to become a valued source for students seeking to enrich their college experience through membership in a dynamic, industry-specific organization."
When nominating Ms. Cusack for Advisor of the Year, Student Chapter President Ms. Marissa Roos praised Ms. Cusack's enthusiasm and dedication to mentoring her students. "The implementation of Stanbridge College's NAVTA Student Chapter began as a way to create more well-rounded students with a desire to network beyond the classroom," she said. "With Emma's endless support, her students are able to channel their newly acquired skills to the community in outreach events, such as working with local foster organizations and shelters." The Stanbridge chapter members have participated in Bassett Hound Rescue events, Southern California Veterinary Medical Association events reaching underserved communities, and fundraisers for local animal shelters.
Ms. Roos and Interim Program Director Dr. Lawrence Kosmin, DVM, traveled to the North American Veterinary Conference in Orlando, Florida to receive the awards on behalf of Stanbridge from NAVTA President-elect Rebecca Rose.