75 Homeless Children Receive Halloween Costumes from Stanbridge College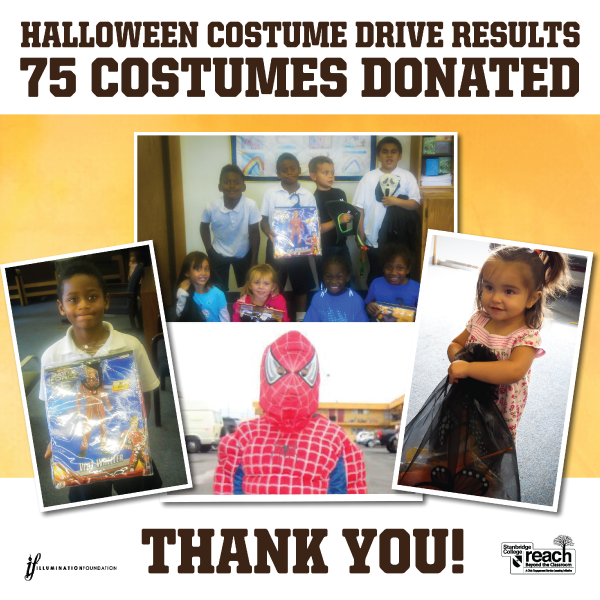 Thank you to all of the students, staff and faculty who donated new and used costumes to the Halloween Costume Collection for homeless children in Orange County. As the result of your kind efforts, Stanbridge College brewed up enough Halloween costumes for 75 children in the Family Resource Program at the Illumination Foundation. Your donations will allow the children to trick or treat and celebrate the Halloween in spooky style. For some of these children, these costumes will allow them to have the extra bit of fun that isn't always guaranteed for them. All different types of costumes and accessories for the children were donated including outfits for fairy princesses, ninja warriors and superheroes.
"For most children, Halloween and the holidays in general, are a time filled with fun and excitement," stated Ashley Krebs, Communications and Development Assistant at Illumination Foundation. "For children living in poverty, this time of year can be just another reminder that they are going without. By providing something as simple as a Halloween costume, Stanbridge College has given these children an opportunity to forget their circumstances and enjoy the holiday like any other child."
The Illumination Foundation is a non-profit organization that provides integrated services to the homeless and needy in Orange County. Through its housing, healthcare and outreach services, IF has supported 598 families, 899 adults and 542 children since its establishment in 2008.
Continue to REACH
To learn more about the Illumination Foundation, please visit them online at www.ifhomeless.org.
To learn more about Stanbridge College REACH™ – Beyond the Classroom and see how you can help Orange County please visit www.stanbridge.edu/reach.