Stanbridge Spotlight: Nursing Instructor Writes Children's Book for Upset Tummies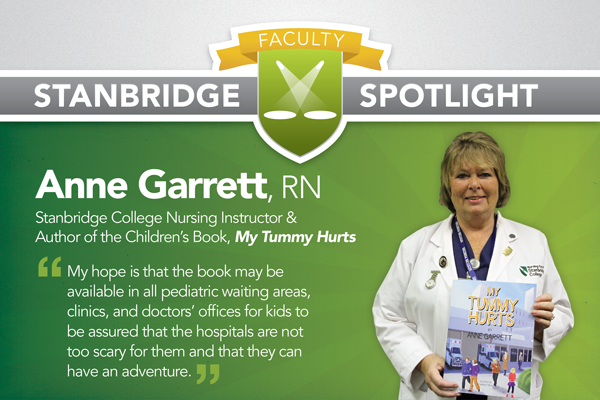 Stanbridge College Nursing Instructor, Anne Garrett, RN, looks at a CT scanner and thinks of it as if it were a space ship in Star Wars.
According to her husband, Haydn, Mrs. Garrett can understand how "little people" think. With eight grandchildren, ages ranging from three to twelve, she would often write stories to them about nurses, doctors and hospitals. Because of this, her husband urged her to write down ideas for a children's book.
Out of those ideas came "My Tummy Hurts," a book about a child named Sam, who goes to the hospital because of a stomach ache. Sam, with his Transformer toy robot by his side meets with doctors and nurses who wear Superman printed scrubs. Sam also goes through procedures such as getting a CAT Scan.
"I know what the adults go through, when they are scared, hurting and unsure of outcomes, so I wanted this little boy to understand what could happen to him, from the ER to the operating room to recovery and discharge," said Anne.
With 46 years of experience in the nursing profession, Anne anticipates that her recently published book will help alleviate any fears that children may have when visiting the hospital. For example, in the book, when the doctors ask the boy to get in the CT scanner and stay very still, the boy thinks of it as though he is stowing away on space ship, just like Luke Skywalker did in Star Wars.
"My hope is that the book may be available in all pediatric waiting areas, clinics, and doctors' offices for kids to be assured that the hospitals are not too scary for them and that they can have an adventure…who knew that the CT scanner could be made into a Star Wars game?"
While her book teaches children what to expect as a patient in a hospital, Anne continues to teach young aspiring students how to be nurses in the Vocational Nursing program at Stanbridge College.
"I have really been involved in teaching for many years, as most senior nurses enjoy passing on knowledge to the newer graduates. I am about to start my 3rd year in April at Stanbridge, and I just love my work."
As a nursing instructor, Anne feels that it is important for nursing students to be excited about their future careers. She believes that there will be a constant demand for nurses and urges new nursing students and graduates to continue their education throughout their careers.
"I hope that I can inspire the students of today to become the best nurses of tomorrow, as they start this amazing profession. We will always need caring, well-educated nurses to hold our hands, and we will always need the excellent caliber of instructors that the students are so lucky to have here at Stanbridge. Today's students may well be here in the future passing their knowledge along as the lectures of tomorrow."