Medical Safety Volunteers Needed at the LA Marathon 3/18!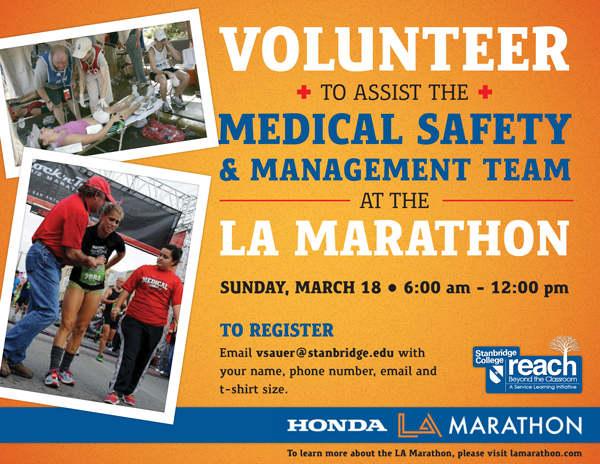 Stanbridge College REACH is looking for volunteers to help assist the Medical Safety and Management Team at the LA Marathon on Sunday, March 18th.
According to the LA Marathon LLC, the race is expected to draw over 25,000 participants. With such a large turn out, volunteers are greatly needed to help runners stay healthy during and after the race.
Volunteers will be placed at several stations along the marathon course. Volunteers will be teamed with experienced nurses and physicians. Some of the volunteer tasks include handing out water to dehydrated runners, handing out snacks to runners, taking vitals, supporting nurses and physicians with injured runners and more.
Here are the event details:
Date: Sunday, March 18th
Time: 6:00 am – 12:00 pm
Location: Los Angeles – course route takes runners from Dodger Stadium to the Santa Monica Pier.
Registration: Registration for this event is now closed.
More information and details of event day tasks will be sent out to all of the registered volunteers prior to the event.
To learn more about the LA Marathon, please visit www.lamarathon.com.