Stanbridge College Helps Carry the Weight: Over 25 OC Homeless Receive Donations of Suitcases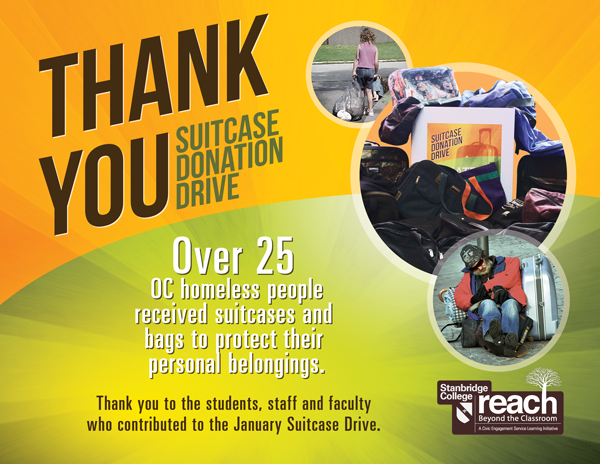 Stanbridge College January Suitcase Donation Drive gathered suitcases, tote bags, and duffel bags for over 25 less fortunate and impoverished people in Orange County. The two-week long drive helped provide people who are homeless or living in temporary housing like motels and shelters with durable protection for their belongings in the cold and rainy months. At the end of the two weeks, all donations were given to the homeless at Lighthouse Ministries in Costa Mesa.
"It is overwhelming to see just how much one suitcase can aid a family in need," stated Yasith Weerasuriya, President of Stanbridge College and volunteer at Lighthouse Ministries. According to Mr. Weerasuriya, "there was one homeless family at the church who carried their child and all of their personal belongings in a flimsy, worn out stroller. When they received a stronger suitcase they were able to consolidate all of their belongings and carry them without burdening their child."
In addition to the donations, volunteers from the college prepared, cooked and served a warm meal to over 400 homeless and low-income families at the church. This event is a monthly community service project in which Stanbridge College partners with Mariners Outreach to host a meal for Orange County's homeless.
These projects are a part of Stanbridge College's REACH – Beyond the Classroom Service Learning and Civic Engagement Initiative. REACH provides students the opportunity to give back to their local and global communities while earning credit towards coursework in a structured environment. Stanbridge College's REACH has continuously supported the homeless of Orange County by assisting organizations like Mercy House, Veterans First OC and Project Hope School.
Continue to REACH
Stanbridge College serves the homeless with a warm meal every month. Learn more and sign up to volunteer at the next serving the homeless event in February online at www.stanbridge.edu/reach.