Celiac Disease Research Funding: Stanbridge University Hosts Turkey Trot 5K Event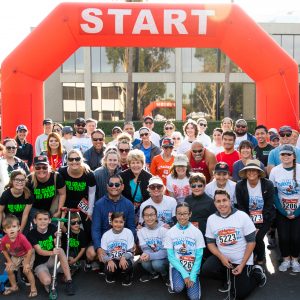 Stanbridge University proudly hosted the 1st Annual Celiac Disease Foundation Team Gluten-Free Orange County Turkey Trot 5K at its Irvine campus on Saturday, November 2nd, 2019. It was the first of its kind in OC!
Over 50 runners participated in the Celiac Disease Foundation 5K, which raised $28,809 in funds to aid in celiac disease research. 
"The Celiac Disease Foundation deeply appreciates Stanbridge University's hosting of the inaugural CDF Orange County Turkey Trot," Chief Executive Officer for the Celiac Disease Foundation, Marilyn Geller, stated. "In just 60 days, they made this event a tremendous success for the celiac disease community, raising over $28,000 for research towards treatments and a cure. With gratitude, we recognize their determination and enthusiastic support."
Celiac Disease Research Funding: Close to Home
In addition to raising funds, the event struck a personal chord for much of the Stanbridge University staff, faculty, and students.
For instance, Lisa Caraway, Stanbridge University's outREACH and Student & Alumni Affairs Officer, had a very particular reason for participating. Because her close friend was diagnosed with celiac disease, she learned more about the serious nature of the autoimmune disease and the severe impact it can have on someone she cares about as a result.
"I am grateful to be able to offer support to this wonderful organization," Lisa said. "I feel proud to work for an institution of higher education dedicated to bettering our community."
Celiac Disease Research Funding: 7 Celiac Disease Facts
While much work has gone into raising awareness for the disease, there are still quite a few misconceptions. Some major facts include:
Celiac disease is a chronic autoimmune disease. As a result, you cannot "grow out" of it.
1 in 100 people worldwide have celiac disease.
Celiac disease affects an estimated three million Americans.
80% of Americans with celiac disease are not diagnosed.
People with a first degree relative with celiac disease have a 1 in 10 chance of developing celiac disease themselves.
More children have celiac disease than Crohn's, Ulcerative Colitis, and Cystic Fibrosis combined.
Celiac disease can affect every organ in your body.
According to the Celiac Disease Foundation, two and one-half million Americans are undiagnosed and therefore at risk for long-term health complications. Therefore, funding for research is vital. In short, Stanbridge was proud to offer the Celiac Disease Foundation its support.
Since its founding in 1990, the Celiac Disease Foundation has sought to accelerate diagnosis and treatments. Ultimately, they hope find a cure for celiac disease through research, education, and advocacy.
Stanbridge University had the privilege of working alongside the Celiac Disease Foundation towards this important cause!