Why Become a Licensed Vocational Nurse?
Find your calling as a Licensed Vocational Nurse (LVN)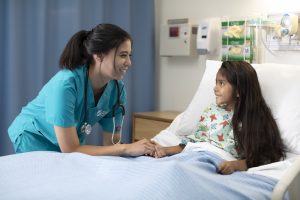 Any nursing student can tell you that becoming a Licensed Vocational Nurse (LVN) is no picnic. But a career in vocational nursing is incredibly rewarding – and in high demand! Our society needs nurses who care, and with a vocational nursing degree, you can develop valuable leadership skills, meet the increasing needs of the healthcare industry, and transform lives.
According to the Bureau of Labor Statistics , the employment rate for LVNs is projected to grow 12% from 2016 to 2026, which is faster than the average for all occupations. The data indicates that the demand for quality LVNs continues to grow, and this opens up exciting opportunities for anyone interested in a nursing career!
What do LVNs do?
Vocational nurses work closely with registered nurses and doctors to provide expert patient care. Some tasks include monitoring vital signs, recording intake and output, collecting test samples, maintaining equipment, and implementing wound care.
LVNs have direct contact with patients as they record and update patient histories, keep track of how they are feeling, and monitor their day-to-day responses to medications and treatments.
If working hands-on to care for and help patients is something that appeals to you, vocational nursing is the right choice!
Where do LVNs work?
Most licensed vocational nurses work full time and can work in:
Nursing and residential care facilities
Hospitals (state, local, and private)
Physician's offices
Home healthcare services
Government
Wherever you want to be for your future nursing career, there's a place for you!
Want to learn more? Discover the Vocational Nursing program at Stanbridge University.