Stanbridge OTA Grad is Awarded Honorary Award from OTAC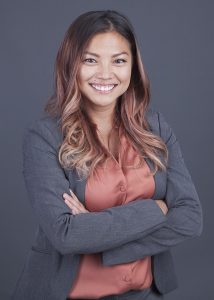 Recent Stanbridge Occupational Therapy Assistant program graduate Erika Agustin has been awarded the 2017 Occupational Therapy Association of California (OTAC) Occupational Therapy Assistant (OTA) Honorary Award. The OTA Honorary Award is a special award that is given to a OTAC member who has made significant contributions to the advancement of Occupational Therapy (OT) in areas of therapeutic practice, education, communication, organizational, or community service. The award is presented to the winner at the annual OTAC Conference.
Ms. Agustin is currently President of the Alumni Association at Stanbridge University where she thrives in a leadership role. She has organized departmental journal clubs to enhance evidence-based practice and has she contributed her time to the community. Ms. Agustin has developed a Patient Transfer Training Workshop, Documentation Workshop, Mock Interview Workshop, and a Mentorship Program building networking relationships with students and alumni. Additionally, she was able to obtain practicing practitioners from the community to participate in the workshops.
Ms. Agustin was nominated by her supervisor at the prestigious Casa Colina Hospital, Susie Wong-Okamoto, where Ms. Agustin currently works to develop and direct treatment plans for patients who have had cerebral vascular or brain-related trauma as well as SSOTA President Patricia Hansen. "Erika is passionate about teaching students and OT peers," Ms. Wong-Okamoto explained. "As an occupational therapist for 29 years, I have been fortunate and honored to lead, mentor, teach, and inspire OTs and I enthusiastically, without reservation, nominate Erika as the Honorary OTA of 2017."
At her 2017 graduation ceremony, Ms. Agustin was awarded the Rear Admiral Howard A. Roop Alumnus of the Year Award, which recognizes and highlights an extraordinary student leader who is dedicated to making a difference in the lives of others. During her time at Stanbridge, she was able to raise over $2,000 for autism awareness and the HOPE Mentoring Project. She has presented at the OTAC Spring Symposium before and has mentored OTA students around Southern California to help enhance their learning experiences. Ms. Agustin was humbled by the support she got from the Stanbridge faculty and students and her passion for helping others, to work abroad, and make a difference has only grown since graduation.
Ms. Agustin hopes to use her OTA degree and education from Stanbridge University to pursue professional opportunities abroad and to serve underrepresented populations in the Philippines. She is motivated to continue to learn what resources individuals with disabilities have access to and how she can be instrumental in incorporating and standardizing the role of OT. Presently, she has made connections with Occupational Therapists in the Philippines she met from AOTA in Philadelphia to observe their setting to understand the needs in the Filipino community.
For more information about the OTAC visit www.otaconline.org. Learn more about the Stanbridge University Occupational Therapy Assistant degree program, to schedule a campus tour or request more information.