Stanbridge College Launches Orange County's First Master's Degree in Occupational Therapy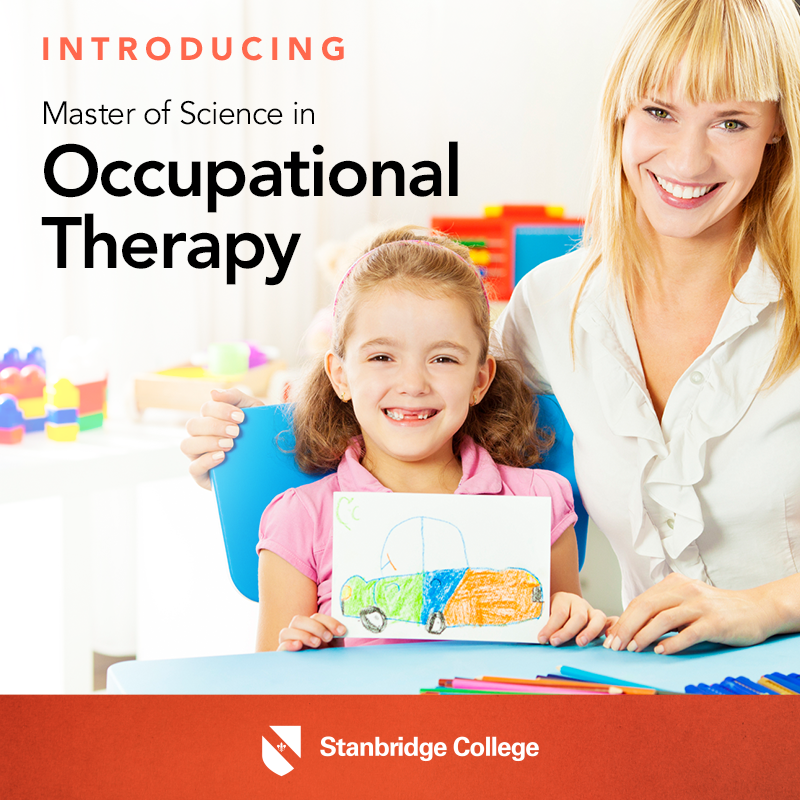 Stanbridge College, a technical college that offers Masters, Bachelor, and Associate of Science degrees and diploma programs in Allied Health and Information Technology, launched the first Master of Science in Occupational Therapy degree program in Orange County at its campus in Irvine, California. The 23 month program produces generalists in the occupational therapy field with a focus on treatment for pediatric, adult physical disabilities and mental health. The inaugural class starts on May 5, 2014.
"We are very pleased to add the Master's Degree in Occupational Therapy to our portfolio of Allied Health programs," stated Yasith Weerasuriya, President of Stanbridge College. "There is a high demand for clinically skilled occupational therapists with excellent business soft skills in the rehab industry. As the industry continues to grow at an increasing rate, we are acutely focused on preparing our graduates to impact the future of the industry, driving its practice and technology forward to ultimately improve the lives of others."
According to Dr. Janis Davis, Ph.D, OTR/L, Program Director of the Master's in Occupational Therapy at Stanbridge, "The Master of Science in Occupational Therapy program at Stanbridge College is truly unique with its focus on transformative learning experiences. The program offers a unique combination of evidence-based clinical reasoning in the curriculum, small class sizes, interdisciplinary academic opportunities, service learning, and advanced simulation labs with emerging treatment technology to help position our graduates to become leaders in occupational therapy. Our program's early attention to professional development and employability will help our students enter a very dynamic industry."
The program teaches students to work with persons across the lifespan, using everyday activities to help people reach a desired state of health and independence. By using simulated therapy environments on campus and at local clinical partner facilities, students are exposed to therapy treatments for clients with autism, dementia, mental illnesses, physical disabilities, and other disorders and illnesses.
Four Therapy Skills Labs, located on campus, give students access to training equipment and settings realistic to professional occupational therapists including assistive-devices, adaptive equipment, therapeutic activities, and home-simulation areas. The Therapy Labs include a new Sensory Immersion Lab, a Driving Simulator Lab, and reproductions of daily living environments. Students also learn in an interdisciplinary environment as they work alongside students from the college's Occupational Therapy Assistant Associate's Degree program to understand how to work within a team of healthcare professionals.
According to the U.S. Bureau of Labor Statistics, employment of occupational therapists is expected to increase 33% from 2010 to 2020. The increase in Alzheimer's disease, Parkinson's disease, cerebral palsy, autism, among other illnesses is cited as one cause for the high demand for licensed occupational therapists or OTRs.
Established in 1996, Stanbridge College offers diplomas and degree programs in Nursing, Occupational Therapy, Physical Therapy, Hemodialysis, Veterinary Technology and Information Technology. Earlier this fall, the college launched the first Associate's Degree in Veterinary Technology in Orange County.
The Master of Science in Occupational Therapy program has applied for accreditation, and received "Candidacy Status," by the Accreditation Council for Occupational Therapy Education (ACOTE) of the American Occupational Therapy Association (AOTA), located at 4720 Montgomery Lane, P.O. Box 31220, Bethesda, MD 20824-1220. ACOTE's telephone number c/o AOTA is (301) 652-AOTA. Their website is www.aota.org. The program has submitted an Application for Candidacy, which is the formal application required in the pre-accreditation stage. Candidacy Status is not an accreditation status nor does it assure eventual accreditation.
To learn more about Stanbridge College, please visit www.stanbridge.edu.