Stanbridge College Launches First Veterinary Technician Degree Program in Orange County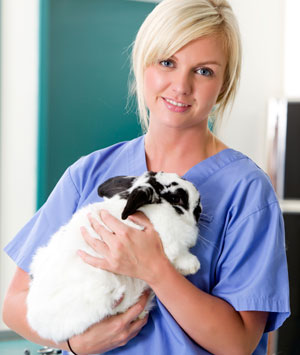 Stanbridge College launched a new Associate of Science in Veterinary Technology degree program at its Orange County campus for veterinary technician and animal health care career training. Classes are scheduled to start on November 11, 2013.
The program prepares students to receive their licensure to work under the supervision of a veterinarian, providing medical assistance in animal hospitals, shelters, research, or zoos. Students are trained for the Veterinary Technician National Examination, an assessment of their skills to grant them their license to practice.
"Stanbridge College is excited to expand our Allied Health programs to include veterinary technician training," stated Yasith Weerasuriya, President. "Our mission is to prepare students for a career with the viable skills employers want and need, critical thinking abilities, soft skills and most importantly, compassion to promote humane treatment for all living creatures."
The program offers students a brand new Veterinary Technology Skills Lab on campus that simulates the working environments of professional Registered Veterinary Technicians (RVTs). Throughout the program students learn under the supervision of Stanbridge College instructors, veterinarians and professional RVTs, in real animal shelters in Orange County. As a component of the Stanbridge College REACH Community Service Initiative, this type of service learning is weaved into the program enabling students to use concepts in class to help animals who may be homeless, neglected, malnourished or in need of medical attention.
"Our skills labs are second to none," stated Dr. Myra Jones, M.S., D.V.M., Program Director of Veterinary Technology at Stanbridge. "Students get hands-on training with live animals and understand how they can make a difference for animals in need. It's a challenging program, but a rewarding career."
RVTs are responsible for assisting veterinarians with many tasks including administering anesthesia, taking x-rays, drawing blood, providing dental and nursing care, and counseling owners on administration of medications and overall status of their pets. According to the Bureau of Labor, jobs for veterinary technicians are expected to grow by 52% by 2020.
Stanbridge College offers diplomas and degree programs in Nursing, Occupational Therapy, Physical Therapy, Hemodiaylsis and Information Technology.
The Associate of Science in Veterinary Technology degree has been approved by the Accrediting Commission of Career Schools and Colleges, ACCSC. Stanbridge College is seeking accreditation for the Associate of Science in Veterinary Technology degree by the American Veterinary Medical Association (AVMA) Committee on Veterinary Technician Education and Activities (CVTEA) (1931 North Meacham Road, Suite 100 Schaumburg, IL 60173-4360; phone; 800.248.2862; www.avma.org). The program has submitted an Application for Initial Accreditation. Submission of this document does not assure that the program will be granted Accreditation.
To learn more about Stanbridge College, please visit www.stanbridge.edu.