Stanbridge IT Alumni Spotlight: Jeff Upcraft, Director of Information Services Works to Master His Craft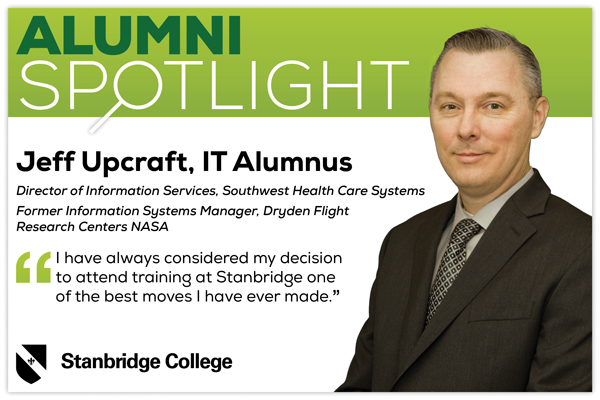 Jeff Upcraft is the 2013 Rear Admiral Howard A. Roop Alumnus of the Year award. Jeff was presented with the award at the 2013 Commencement Exercises in July for his contribution to the IT professional community.
Before managing Dryden Flight Research Centers IT Contractors for NASA and becoming the Director of Information Services for Southwest Health Care Systems, Jeff Upcraft mastered his craft in Information Technology at Stanbridge College. Stanbridge spoke with Jeff to discuss the education that lead to his career, his efforts to donate over 150 PCs to needy children, dreams of creating a non-profit organization and his advice for IT students entering the field.
SC:
What were you doing before you attended Stanbridge College?
JU:
I was a professional soldier most of my adult life and then a Counter Terrorism Specialist in the Middle East. Computers were just my hobby to take my mind off of my work.

SC:
What was your inspiration for going into the IT field?
JU:
When I decided it was time for a change of direction, a friend of mine suggested that I consider I/T since I enjoyed it so much. I remember telling him then that the market was saturated and I didn't think it would pan out, boy was I wrong.
SC:
Why did you choose Stanbridge College for your IT program?
JU:
I spoke with several schools, each time learning a little more about what I did and did not want out of this experience. When I met a representative at the school they hit on all of my concerns and demonstrated how Stanbridge was different. I was sold.
SC: What was your first impression of Stanbridge when you started your IT program?
JU: From the first time I came to Stanbridge, I knew this was the place for me. The facility had all of its classrooms dress right dress (which appealed to my military mind) and the instructors were both sincere and brilliant. I could see the dedication in their eyes. When I left the school that day, I just knew my search for an education was over. To be clear I have always considered my decision to attend training at Stanbridge one of the best moves I have ever made.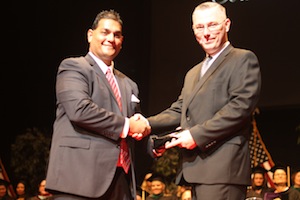 SC: What was your overall experience like at Stanbridge?
JU: WOW, Intense? I had taken a few college computer seminars over the years but nothing like the training I was receiving at Stanbridge. Right from the start I knew I was being exposed to the right material and given the most comprehensive instruction possible. I attended courses during the day and read every night. It was like seeing an entirely new world for the first time. I loved every minute of my time there.

SC: Have you taken any of the IT certifications? Did your IT training help with your performance?
JU: I originally enrolled in the MCSE 4.0 track, and went on to take the CCNA & CCDA courses. I also sat in Tim Powers' first ever Linux LPI course and a few web building courses (all at Stanbridge). Over the years I have taken course provided by other training companies as provided by my employers and I always benchmark them against the training I received at Stanbridge. In comparison all of them get a D- in my book.
SC: How did you utilize the Career Services department at Stanbridge? What did they help you with that made an impact on your job search process?
JU: Career Services was able to help me modify my resume from a strict militant format to one more acceptable by corporate America. Since that time I have asked for resumes from Stanbridge from time to time, because I know the quality of the folks coming out of the school.
SC: Where have you worked in the IT industry? What are you currently doing now?
JU: Right out of school I was hired by a dot-com in Santa Monica. Almost 90 days later the guy that hired me as a Jr. Admin worked for me. I utilized my newly developed I/T skills and my military experience to organize and map out a plan of development for the company. After the dot-com bubble burst I ran a fairly successful consulting business for about four years and then I was hired by NASA to run their Dryden Flight Research Centers I/T contractors. I spent nearly eight years there and enjoyed everything about it. Working for NASA again allowed me to utilize both my I/T skills and my military backgrounds to help an already extremely sophisticated infrastructure move to the next level, and if you want a challenge try working with people that have books on their desk like Quantum Physics for Fun. I was also able to utilize the intern program from Stanbridge while at NASA to push out a desktop replacement program with an extremely tight schedule and again Stanbridge delivered the goods. After NASA I became a principal partner in a company doing R&D for military hardware and software. I also took a position with Southwest Health Care Systems to help rehab their networks and to prepare them for a major EHR roll out. Additionally I am also a fulltime I/T Business Development Consultant for a large government contracting company. I am still in all three roles, which keeps me entertained to say the least. Interestingly enough my work for Southwest combines all of my skills and positions as we have begun to implement the HITECH act (which translates to adopting DOD level I/T Security to health care) which is a very tall order.
SC: Have you or do you currently do any community service? Has that affected your career in any way?
JU: For years I have been personally sourcing computer systems (things most companies are ready to retire) and rebuilding them to donate to schools or under privileged children. I do have a vision of creating a non-profit organization specifically targeting children and computers. There is a huge population of under privileged children that can't compete in school these days because their families cannot afford to purchase a computer or to even get the ones they do own repaired. Try attending grade school these days without the means to create a simple word document or a PowerPoint presentation. The NPO would not only provide systems to children, but also provide a Sudo A+ course for the children to learn how to maintain their systems, and some general best practices for Internet safety. This project will someday become a reality but for now, I just donate PC's. Last year I donated approximately 150 complete systems. I wouldn't say it has affected my career, but doing this type of charity work is extremely fulfilling.
SC: What do you hope to achieve in your career in IT? Do you want to continue your education in IT?
JU: I enjoy the team concept of I/T, one of the first things I do when I take on a new project is assess the "team" construct to see where we have gaps in communication or technologies. If you build a cohesive team with talented people you can do just about anything. I believe people work better in teams and gain a sense of personal fulfillment when they can work together, contribute, and accomplish their goals. I am currently considering returning to school to obtain a Health care Administration degree with a focus on I/T. The nation's health care infrastructure is going to get completely revamped over the next decade and it will be instrumental in understanding the complexities of how this puzzle is put together.
SC: What advice do you want to give future IT students?
JU: Don't just study to pass a test, really work at mastering your craft and if once you're in the field and decide that you want to change disciplines again, do it. My best staff are almost never doing what they set out to do. Programmers are now I/T Security gurus or network engineers. If your interests change, you're not stuck, you can create your own reality.

SC: What is the biggest strategy you can share with fellow students that led to you securing your current job?
JU: Never think you're too advanced to help. Everyone in my team, regardless of title, is a desktop tech! (even me) Technical competency is only 50% of the job, the other 50% is earnest effort to make other people's lives a little better.