Stanbridge Spotlight: Athletic Champions Turn Passion for Sport into Physical Therapy Education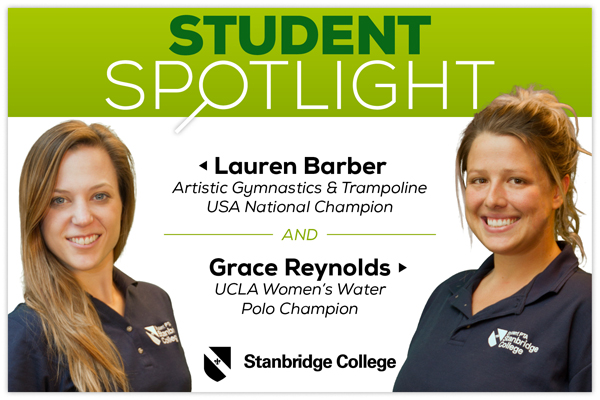 Passion, dedication, persistence and teamwork are all characteristics embodied in an athlete's journey for glory. But for world-class athletic champions, Lauren Barber and Grace Reynolds, both with dreams of Olympic gold, these characteristics are now helping them towards a new goal: a degree in the Physical Therapist Assistant program at Stanbridge College.
Before meeting in the inaugural class of the PTA program at Stanbridge, Barber and Reynolds' journey to their educational calling were two different paths. For 15 years, Lauren Barber was involved in artistic gymnastics and specialized on the trampoline.
"I wanted to be Kerri Strug," stated Lauren, as her inspiration after watching the women's gymnastic team win gold at the 1996 Olympics in Atlanta. "Gymnastics had a lot of dance involved in it and a lot of flying. I wanted to fly."
While training with several club teams and winning multiple state championships, Lauren went through two major injuries including breaking two vertebrae in her back both in 2006 and 2007. She recovered and went on to winning the 2008 National Championships in the trampoline. After the win, she began training for the 2012 Olympics in London, however in 2011 she was diagnosed with Parsonage-Turner syndrome in her shoulder causing her to retire from gymnastics.
In August of 2012, Lauren began a new chapter in her life as she started in the Physical Therapist Assistant program at Stanbridge College. Being very familiar with physical therapy treatment, Lauren found inspiration in those who once helped her.
"The physical therapists and PTAs really inspired me to help other people. They want to help their patients do what they want to do and not let injury hold them back," said Lauren.
In a similar manner, Grace Reynolds found her inspiration to start her education in physical therapy through her athletic success. Growing up in a family involved in aquatic sports, Grace started playing water polo throughout her schooling and during her education at University of California, Los Angeles.
During her education at the UCLA, Grace won two regional championships on the UCLA women's water polo team. Grace was also chosen to be on the water polo team for the USA Women's World University Games and the team achieved the Silver medal in 2011.
After coming home from the win, her grandmother fell ill and Grace flew to Boston to help her family. Her grandmother had difficulty moving, but with the help of her two aunts, both Registered Nurses at Boston Medical Center, Grace learned how to care for her grandmother and the proper techniques to move her from the bed to the wheelchair with a slide board.
"I really wanted to make my grandmother comfortable," said Grace. "Just to see her smile made me very happy and I thought to myself, I could do this for a living. I am strong and I could help people get from one place to another."
With a new found interest in patient care and her familiarity with physical therapy treatments for athletes, Grace was driven to seek out a degree program in physical therapy.
"In college we routinely went to physical therapy," stated Grace, "We had ice baths, electrical stimulation and massages to help our bodies throughout practice and competitions. The physical therapists provided a lot of help and support to us."
Today, as they learn the foundations of physical therapy that may one day lead them to helping young athletes of the future, Lauren and Grace take their lessons learned from competition and apply them to the classroom.
"You need to be passionate and love what you're doing. Teamwork is also very important. You need to be able to communicate to your teammates or classmates and instructors in order to succeed," said Grace.
"Earning your degree is very similar to competing as an athlete," stated Lauren. "You need to discipline yourself and become dedicated to your goals. If you know what you want, go for it."
To learn more about the Physical Therapist Assistant program at Stanbridge College, please visit www.stanbridge.edu.