IT Students Prepare Christmas PCs for Needy Children in Costa Mesa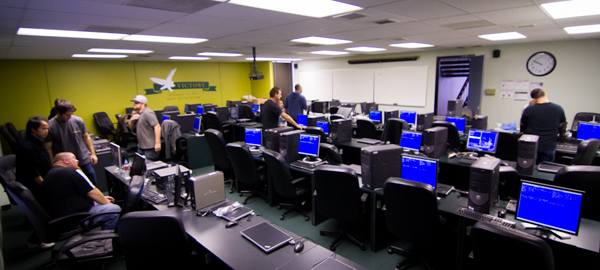 In December, Stanbridge College Information Technology students prepared 28 PC computers for needy children in Costa Mesa. Over 15 students worked to set up each computer for the children to use. Students wiped hard drives and installed device drivers, operating systems and the Microsoft Office suite. The computers were previously donated from a former bank, and will be distributed through a local church to the children during the Christmas holiday. In order to receive a computer, each child will need to volunteer or participate in community service at their school.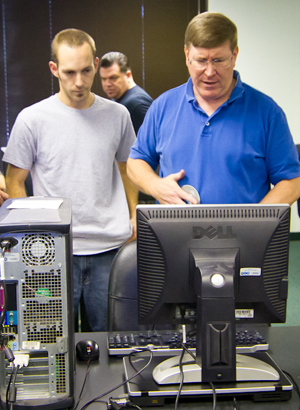 Robert Briggs, current IT student at Stanbridge introduced the IT department to this project. Robert stated, "The reason I brought this project to Stanbridge was because I saw it as a great opportunity for the schools, the
church, and the community to work together to address the needs of others.  It was a great opportunity to get "hands on" experience
for the students working on the PCs, the church to be able to provide the PCs, and the community to receive the PCs.
Robert continued, "I chose to work with this group of students so they would have the opportunity to give back using their skills to provide the needs of others. It was a chance to be self-less, and at the same time gain knowledge."
The project is part of the Stanbridge College REACH – Beyond the Classroom™ Service Learning Initiative in which students are encourage to use their technical skills to help those in need in the community. In the past, IT students have worked with non-profit organizations including the Boys Hope, Girls Hope in Costa Mesa setting up a computer lab for the at-risk children. Earlier in 2012, Stanbridge College signed a partnership with NPower Community Corps to provide pro bono IT support to nonprofits and schools. The partnership with The Community Corps program will enable students in IT programs at Stanbridge College to work directly with IT professionals to support nonprofits with IT support and services.
Continue to REACH
To learn more about community service and service learning at Stanbridge College, please visit www.stanbridge.edu/reach.