Occupational Therapy Assistant Students Donate $1700 to Special Olympics Southern California
Occupational Therapy Assistant (OTA) students of Stanbridge College recently donated over $1700 to the Special Olympics Southern California. The OTA students hosted several fundraisers to support the non-profit and promote occupational therapy to the public and student body at Stanbridge College.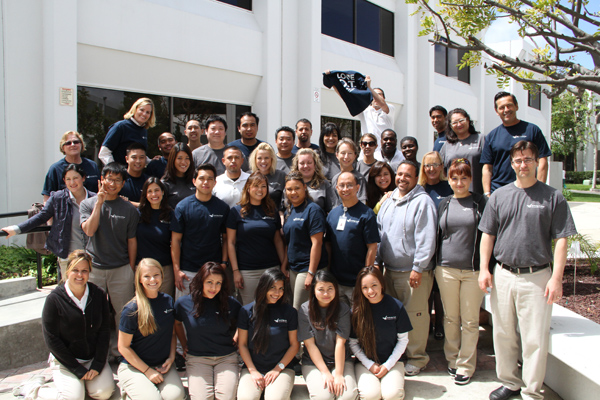 On their own initiative, the OTA students worked together and hosted a bake sale, a custom-made occupational therapy awareness t-shirt sale, a silent auction and a
networking event with members of the Occupational Therapy Association of California (OTAC) at a local El Torito. Donations from these activities went to supporting the Special Olympics Southern California empower individuals with intellectual disabilities to become physically fit, productive and respected members of society through sports training and competition.
Occupational Therapy Assistant student and fundraiser coordinator, Jiro Francisco stated, "The experience of OT Week was simply historic for me because the event enabled leaders and talents from our cohort to come together as a whole to successfully achieve our goal, raising funds for Special Olympics and promoting awareness for Occupational Therapy. We are so thankful for the amazing camaraderie and cooperation from all of the OTA cohorts who volunteered and faculty and staff members at Stanbridge who helped us."
"OT week was much more than just a fundraising event," stated Akina Shinoda, OTA student and fundraiser coordinator. "It involved so many people, and brought together several OTA cohorts, instructors and staff members. I think promoting OT awareness brought us closer together as a school. And that in itself is a big accomplishment."
In June, Stanbridge College students and staff volunteered at the Special Olympics Southern California 2012 Summer Games at Cal State Long Beach. In addition to cheering on the athletes, volunteers assisted in several teams including medical response, score keeping, athlete staging and meal assistance.
According to the American Occupational Therapy Association (AOTA) occupational therapy is a science-driven, evidence-based profession that enables people of all ages live life to its fullest by helping them promote health, prevent—or live better with—injury, illness, or disability. Each April, occupational therapy (OT) and OTA professionals and students celebrate OT and are encouraged to promote the profession to the public.
The OT Awareness Fundraisers were a part of the OTA students' service learning project, a critical part of curriculum at Stanbridge College. All students at Stanbridge College are encouraged to participate in community service through the REACH – Beyond the Classroom Service Learning and Civic Engagement initiative. The REACH initiative provides students with opportunities to give back to the community while earning credit towards coursework in a structured environment.
Continue to REACH
To learn more about the Special Olympics of Southern California please visit http://www.sosc.org.
Continue to promote occupational therapy all year long! Learn more about this profession at http://www.aota.org.