Stanbridge Volunteers Go the Distance at Special Olympics 2012 Summer Games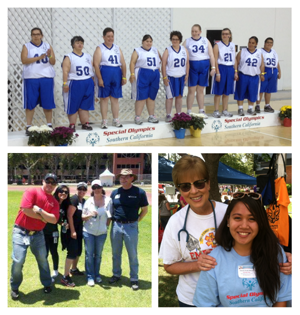 Winning smiles, high fives and the feeling of accomplishment were present in each athlete and volunteer at the Special Olympics Southern California 2012 Summer Games. Over 20 Stanbridge College staff and students volunteered during the two day event at Cal State University Long Beach. In addition to cheering on the athletes, volunteers assisted in several teams including medical response, score keeping, athlete staging and meal assistance.
According to Sarah Clark, Vocational Nursing student scheduled to graduate in July, "I volunteered at Special Olympics this past weekend, and it was amazing! The most memorable experience ever and I can't wait until next year!"
Along with several other Stanbridge students and staff, Sarah worked with the medical team and assisted athletes in their dorms and during competitions over the weekend.
Ms. Clark continued, "I spent the night in the dorms with the athletes. I was the overnight nurse and in charge of all the dorms and athletes in case anyone needed medical assistance, as well as worked both days during the events. Words cannot describe how much fun I had! I would love for more students and alumni to get involved because it is so wonderful, and I'm sure that once they experience it, they'll be hooked for life, like I am."
Stanbridge College volunteers helped support over 1,100 athletes from San Luis Obispo County to San Diego County. Athletes competed in six different competitions including athletics (track and field), aquatics, basketball, bocce, golf, and gymnastics. The competitions were held at Cal State University, Long Beach. Athletes received free health screenings at Healthy Athletes Village, and celebrated at Expo Park, which featured games, live entertainment, sponsor exhibits, and sports clinics.
Stanbridge College thanks each one of its students and staff who volunteered during the 2012 Summer Games. Your support and time is greatly appreciated.
Continue to REACH
To learn more about the 2012 Summer Games and the Special Olympics Southern California, please visit www.sosc.org.
Stanbridge College's involvement with the 2012 Summer Games is part of the REACH – Beyond the Classroom™ Service Learning and Civic Engagement initiative. To learn more about REACH please visit www.stanbridge.edu/reach.