Donors Needed at June 12th Red Cross Blood Drive at Stanbridge College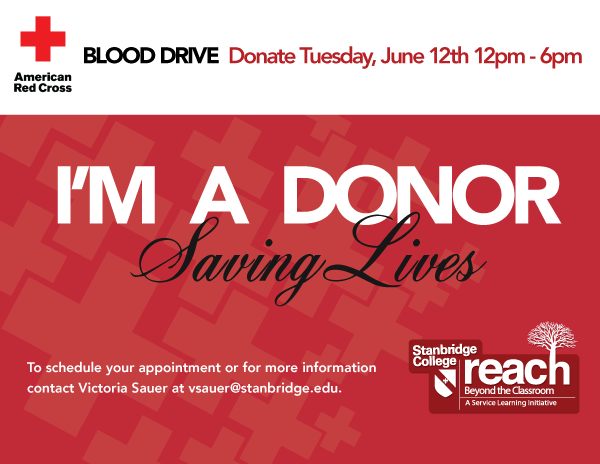 Stanbridge College presents its quarterly American Red Cross Blood Drive on June 12th! As we approach the summer months, it is critical to help provide donations to those in need of blood transfusions.
According to the Red Cross Orange County, our community blood supply, especially the O-negative and B-negative blood types, has dropped well below adequate levels. To prevent the blood supply from falling even further, the Red Cross needs your help.
Hospitals and trauma centers trust the Red Cross to deliver potentially lifesaving blood for accident victims, sick children, and cancer patients in need of transfusions. Again, we need your help – not just to stabilize our depleted blood supply – but to immediately help patients in need.
Blood Drive Details:
Date: Tuesday, June 12, 2012
Time: 12:00 p.m. – 6:00 p.m. – Appointments are scheduled every 20 minutes.
Location: Stanbridge College 2041 Parking Lot – Red Cross Bloodmobile
REGISTRATION: Email Victoria Sauer at vsauer@stanbridge.edu with your name, email, phone and requested time.
Identification is required to donate. Please ensure you are eligible to donate blood before you make your appointment. To read about American Red Cross donor eligibility please visit: http://www.redcrossblood.org/donating-blood/eligibility-requirements.
Ineligible to Give Blood? – Registration Volunteers Needed!
Due to certain limitations, some people may be ineligible to donate blood. But you can still help! Volunteer to help the Red Cross with registration tasks on the day of this event. We need 2 volunteers for two 3 hour shifts from 12:00pm – 3:00pm and 3:00pm to 6:00pm. Please email vsauer@stanbridge.edu for more information.
FREE Coupons and Tickets!
There are many rewarding benefits when donating blood, but if you donate at this blood drive you will get a few more. All donors will receive a coupon for a FREE Taco at Wahoo's in addition to 2 complimentary VIP tickets to the Laugh Factory! You will also have the ability to enter to win a FREE $500 gas card!
Still unsure if you want to give blood? Visit the redcross.org website and read stories and responses from blood donation recipients. Learn how much of an impact you can make with your donation.
Schedule your appointment today and make a difference in the lives of your Orange County community members.