Stanbridge College Volunteers Deliver Warmth at Mercy House Homeless Shelter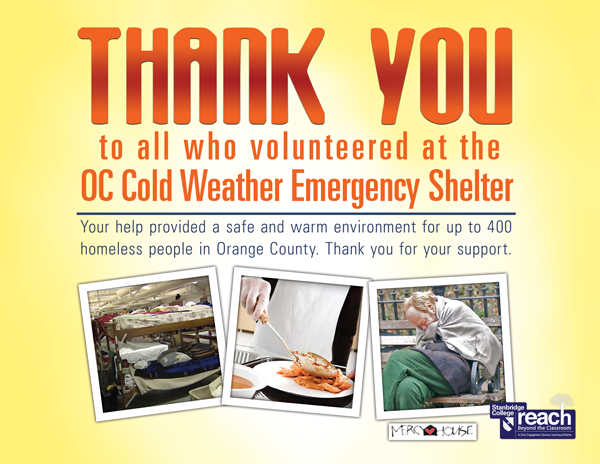 Last weekend, 400 homeless people woke up to the hearts and smiles of Stanbridge College REACH student and staff volunteers assisting at the Mercy House Orange County Cold Weather Emergency Shelter program. Volunteers at both Santa Ana and Fullerton shelter locations helped the people at the shelter by collecting their sleeping mats and blankets, passing out morning coffee and donated snacks and collecting trash outside of the shelter.
According to Katrina Payton, volunteer and Stanbridge College staff member, "Volunteering at the Mercy House shelter was an eye-opening experience. It reminded me that there are a lot of ways that we can help people right here in our local community. I am excited to continue my volunteer work at the next Stanbridge REACH event for the homeless."
The purpose of the shelter program is to provide a safe and warm environment for up to 400 homeless people each night. The shelters are located at the National Guard Armories in Santa Ana and Fullerton and provide homeless with a nutritious meal, a warm shower and a safe place to sleep during the colder winter months. The program is a part of Mercy House's mission to end homelessness by providing a unique system of dignified housing alternatives, programs, and supportive services.
Continue to REACH
Mercy House provides housing and comprehensive supportive services for a variety of homeless populations which includes families, adult men and women, mothers and their children, persons living with HIV/AIDS, individuals overcoming substance addictions, and some who are physically and mentally disabled. To learn more and register to volunteer at the OC Cold Weather Emergency Shelter program, visit www.mercyhouse.net.
Volunteering at Mercy House is one of the many events promoted by Stanbridge College's REACH Beyond the Classroom Service Learning and Civic Engagement initiative. Learn more about how Stanbridge College gives back to its local and global community by visiting www.stanbridge.edu/reach.