Stanbridge College Suitcase Drive for the Homeless Starts January 16th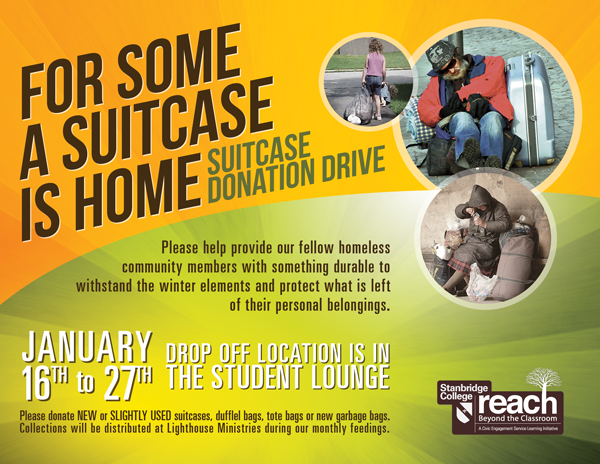 Stanbridge College invites you to participate in our January Suitcase Drive benefiting the homeless of Orange County. Starting January 16th and for two weeks after, we will be collecting new or used suitcases, duffel bags, tote bags and new plastic garbage bags. All donations will go to the Lighthouse Ministries Homeless Shelter.
If you are able to donate, we encourage you to help provide our fellow community members with something durable to withstand the winter elements and protect what is left of their personal belongings.
Here are the event details:
Date: Monday – Friday January 16th – 27th, 2012
Drop off location: Stanbridge College Student Lounge
Donations: New or used suitcases, duffel bags, tote bags or new plastic garbage bags.
During the coldest season in Orange County, people who are homeless or living in temporary housing like motels and shelters need our help the most. A suitcase can be the only home some of these people have.