Stanbridge College Volunteers Cook up Cheer for Homeless Veterans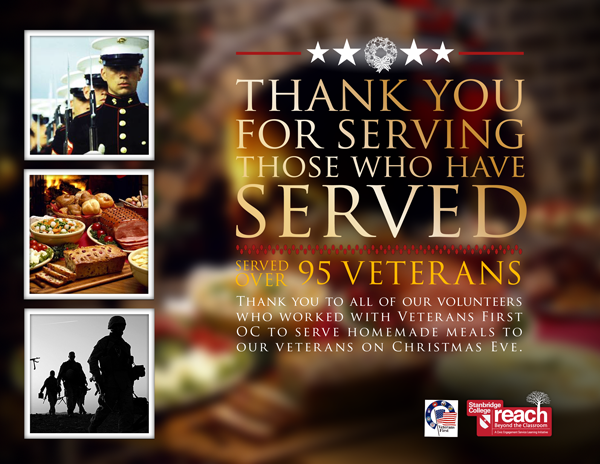 This past Christmas Eve, Stanbridge College students, staff and families partnered with Veterans First OC and cooked up Christmas spirit for over 95 veterans living in transitional homes in Orange County. Stanbridge College donated spiral hams to all of the houses to have as their main meal. Volunteers whipped up mash potatoes, yams, green beans and more and served the homemade meals to the men and women who once served so bravely for our country.
According to volunteer and Stanbridge College instructor Shonia Hayes, "I got to serve the veterans in Anaheim on Christmas Eve. It was very rewarding to serve those who have served us and they were very appreciative of our help. Thank you, Stanbridge for providing and reminding us about these opportunities. It was an excellent day of community service."
Veterans First OC is the only community-based, non-profit in Orange County to provide housing and essential services to our homeless and at risk-veterans and their families. They also support families of currently deployed military men and women.
Earlier this fall, Stanbridge College partnered with Veterans First OC at the 1st Annual OC Stand Down. The two day event provided a camp for homeless and at-risk veterans to access basic medical services, employment and housing assistance, Veterans' benefit management, meals, shelters, and showers. Stanbridge College staff and students volunteered in administrative tasks, served food, and assisted with tent assignments.
Stanbridge College REACH Beyond the Classroom is the service learning initiative program that encourages students to volunteer with Veterans First OC and other local and global non-profit organizations. Vocational Nursing, Information Technology and Occupational Therapy Assistance students are given the opportunity to give back to the community while earning credit towards coursework in a structured environment.
Continue to REACH
To learn more about Veterans First OC and give back to our Military Veterans, please visit www.veteransfirstoc.org.
Learn more about Stanbridge College REACH and the upcoming and past community service events at www.stanbridge.edu.