Christmas Cooks Needed to Serve Homemade Meals for Homeless Veterans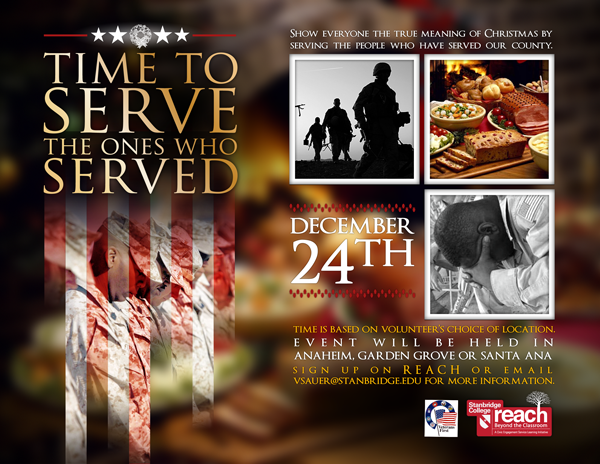 The greatest gift someone can give is the gift of compassion, love and FOOD! This Christmas Eve, Veterans First OC is looking for volunteers to help prepare and serve homemade meals for homeless veterans in our Orange County community. Volunteers will help prepare, serve and clean up dinners for veterans in several transitional homes located in Anaheim, Garden Grove and Santa Ana. All volunteers are asked to bring one side dish to add to the homemade meal.
Here are the event details:
Date: Saturday, December 24, 2011
Time: Time is based on volunteer's choice of location.*
Duration: Each meal should take about 4 hours
Location: Anaheim, Garden Grove or Santa Ana**
Register: Click here to sign up on REACH or email vsauer@stanbridge.edu for more information.
*Times depend upon the location of the meal and start as early as 11:00am. Please contact vsauer@stanbridge.edu for more information.
** Volunteers can choose which location they would like to participate in.
This Christmas make a difference in the lives of our military veterans who live without families or loved ones. Our brave men and women have served our country and now its time for us to show our gratitude and serve them. Sign up today with friends and family and show everyone the true meaning of Christmas.