It's Raining Cat and Dog Donations at Stanbridge College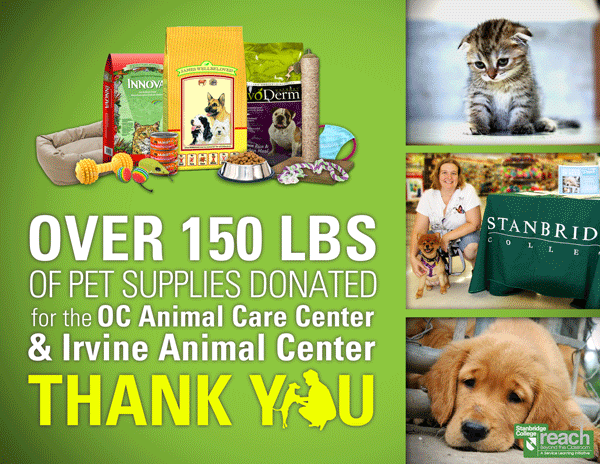 Thank you to all of our students, faculty and staff and the representatives of PetCo who helped us gather over 150lbs of donations for the OC Animal Care Center and Irvine Animal Center.
As part of our REACH Beyond the Classroom Service Learning and Civic Engagement initiative, Stanbridge College hosted a week long fundraiser benefiting the Orange County Animal Care Center. On Sunday, August 21, 2011 Stanbridge partnered with PetCo in Irvine to run a second fundraiser to benefit the Irvine Animal Shelter. Students, staff and faculty volunteered their time to gather donations of pet food, kennel supplies, animal collars, blankets and other items for the animal shelters.
"Donations from the community make a tremendous difference in the lives of our animals, and with close to 4,000 entering our shelter each year, we are in constant need of items," commented Ron R. Edwards, Animal Care Administrator at Irvine Animal Care Center. "The Animal Care Center is extremely thankful to the nursing students of Stanbridge College for their generous donation of food and toys."
According to Stanbridge College President, Yasith Weerasuryia, "One of our major initiatives is to provide our students the opportunity to help those in need of food and care in our local OC community. Many times we focus on people however assisting the lives of thousands of animals is just as important. Stanbridge College is very pleased to be able to work with PetCo and support our local animal shelters."
Stanbridge College Nursing student and REACH volunteer, Nicky Smith stated, "Attending the pet food drive was a great experience. Seeing how many people care about animals in need was very inspiring. Many of the people who donated had adopted their animals from a shelter and were very generous. Over all it was a great experience "

Continue to REACH
Click on their respective links to learn more and continue to donate to these worthy organizations:
OC Animal Care Center
Irvine Animal Care Center