Help Save Lives at the Stanbridge College Blood Drive: July 19th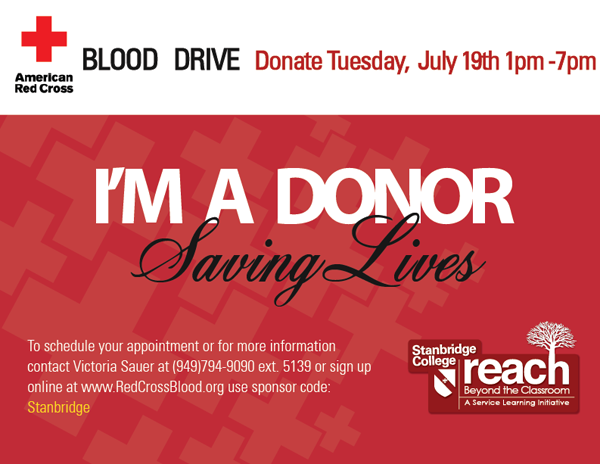 Give blood and save lives at the Stanbridge College Blood Drive on Tuesday, July 19th to support the American Red Cross Society.
Stanbridge College encourages all of its students, faculty, and staff to REACH out and support the American Red Cross blood donations. While all blood types are needed during the critical summer months, type O negative is in high demand because it can be transfused to patients with any blood type, especially in emergency situations.
Date: Tuesday, July 19th, 2011
Time: 1:00pm – 7:00pm
Location: Stanbridge College Parking Lot
Registration: There are multiple ways to register for your appointment:
1. Schedule your appointment online at redcrossblood.org with the Sponsor Code: "Stanbridge"
2. Email Victoria Sauer at vsauer@stanbridge.edu with your name, email, phone and requested date and time.
Identification is required to donate
$500 Gas Card Contest and FREE Coupons!
All participants in this quarter's blood drive will be entered into a regional drawing for a FREE Gas card valued at $500!
In addition, all participants will receive FREE coupons for Chili's Skillet Queso and two complimentary VIP tickets to the Laugh Factory in both Hollywood and Long Beach.
Continue to REACH
Learn more and donate to the American Red Cross at www.redcrossblood.org. For more information and exciting community service projects Stanbridge College, please visit REACH – Beyond the Classroom online.
We look forward to seeing you at the Blood Drive!