Nurses Meet the Challenge of Mass Causalities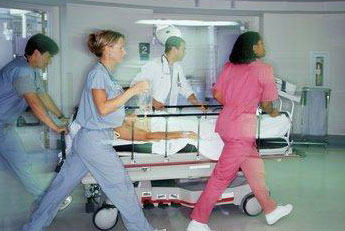 Nurses working at busy hospitals need to keep their composure at all times, but receiving a large number of critically injured patients at once requires nurses to use all of their skills and training. When a gunman shot innocent bystanders at an event for Congresswomen Gabrielle Giffords outside a grocery store in Tucson, Arizona, the University Medical Center (UMC) in Tucson and its nurses rose to the challenge.
When the Medical Center first heard about the shootings and learned that the victims would be coming there, they immediately decided which patients could be moved to make room. Additional nurses came to work and nurses from other units came to help prepare for the victims.
Tracy Culbert, the charge nurse at UMC, said "We give every piece of us when we do our jobs. We give our clinical expertise, our emotional, our personal experiences, our intellect." Thanks to the dedication of Culbert and her team, the five patients admitted to the trauma ICU at UMC received the best care possible.
To read more on this topic please visit UMC online.
To learn how you can start your career in Nursing, visit Stanbridge College online and find more information on Vocational Nursing.