Alumni Spotlight: Thomas A. Fuentes Community Service Award Winner, Kristen Vaughn
Stanbridge University awards the Thomas A. Fuentes Community Service Award to a graduate who has made a significant impact on the community by serving those in need. This year's recipient is Kristen Vaughn, a 2023 Veterinary Technology graduate.
Describe the scope of your community service.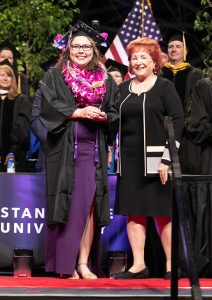 I volunteered with the Little Lion Foundation, also known as Long Beach Little Paws, an entirely volunteer-run organization dedicated to saving the lives of cats and kittens in need.
At Little Lion, I became a shift lead. I was managing volunteers on shift with me as well as, but not limited to, providing care to kittens (feeding, cleaning, washing, etc.), administering medication, helping provide vaccination services through Little Lion's community animal welfare service, and educating the public about kitten welfare and proper care.
How did your community service relate to your program at Stanbridge University?
This community service helped me develop confidence in speaking to others and helped me apply what I learned in the Veterinary Technology program in real time. Learning and witnessing animal healthcare hands-on made it easier to understand the learning material.
What has been the impact of your community service on your life?
My community service further solidified that veterinary medicine is the profession I was meant to pursue.
How has your community service affected the lives of those served?
My impact on the community was more significant than I had anticipated. Connections through many new people made it easier for community members to access proper healthcare, education of the community was a daily occurrence, and I was and am eager to guide people to be as passionate as I am.
Since beginning my community service, I have informed many people of Little Lion's free and low-cost services, hoping their animals will live long, healthy lives. Since volunteering, I have opened my home to foster kittens. Two new members have joined us, including an amputee. Without my education through Stanbridge, I would not have felt as confident caring for a now-adopted amputee Peggie. Peggie would have most likely been euthanized without my care due to the post-operative care she needed.
Learn more about Stanbridge University's undergraduate and graduate programs. To get involved, learn more about Stanbridge outREACH.