Scholarship Stories: Nursing Student Ericka Liang Long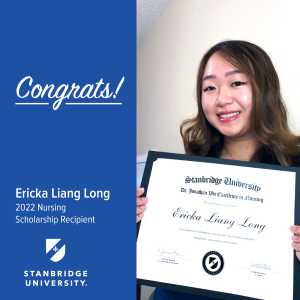 Stanbridge University proudly celebrates the achievements of our hardworking scholarship recipients. Join us in congratulating Los Angeles Vocational Nursing student Ericka Liang Long, a recipient of the Dr. Jonathan Wu Excellence in Nursing Scholarship.
Why do you want to be a nurse?
I grew up watching my mom experiencing unrelieved migraines. Since then, I've been interested in healing and caring for people.
What advice do you have for others wanting to apply for scholarships?
Never be ashamed of applying for scholarships. You won't lose anything by trying. Receiving the Dr. Jonathan Wu Excellence in Nursing scholarship was a blessing, as I was close to finishing the nursing program without a job. I was determined to finish what was important to me, my nursing education, but I also had a lot of bills that needed to be covered. I am committed to working hard to give back to the aspiring nursing community in the future.
When you aren't studying, what do you like to do for fun?
When I am not studying, I like taking my dog to the dog park or any other outdoor activities that are pet friendly.
What is your best study tip?
Stick with your study group, avoid distractions, keep yourself hydrated, get enough sleep, and keep doing practice questions.
What are you planning to do once you graduate Stanbridge?
As a new Stanbridge graduate, I am preparing to take the NCLEX. I follow a consistent routine: reviewing previous notes, practicing questions, and listening to Mark Klimek's lectures. I'm also researching jobs I can apply to once I receive my license.
Interested in applying for a nursing scholarship?
Stanbridge University has many scholarship opportunities available for students, including opportunities for other programs. Scholarship types include:
Institutional (All Programs)
ATI (Nursing)
Jonathan Wu Excellence in Nursing (Nursing)
Degrees of Skill (OTA)