Stanbridge Student Spotlight: Occupational Therapy Assistant Student Jannah Del Mundo
Stanbridge University presents Student Stories to highlight stories of hard work, dedication, and reasons for studying healthcare. This week we are featuring Jannah Del Mundo, an OTA student hoping to make the most out of Stanbridge's hands-on learning.  
What do you love most about being an OTA student at Stanbridge?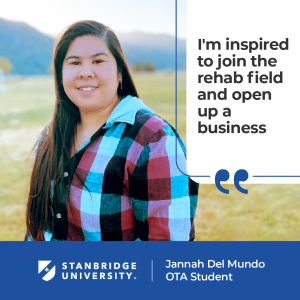 I'm excited to get a lot of hands-on learning through Stanbridge that mimics what our real-life profession would be like. What I love most about Stanbridge are the individuals we're surrounded by, from the janitorial staff to our professors, everyone is very supportive. 
Do you have a favorite Stanbridge memory, class, or instructor?
I'm just very fortunate to be surrounded by such a supportive cohort, who all wish nothing but success amongst all of us. 
Why do you want to be an OTA?
I want to be an occupational therapist because my stepmom, a physical therapist, inspired me to join the rehab field and open up a business with her one day. I also primarily grew up with my grandpa, who suffers from COPD. As I got older, he began struggling to do daily activities, making him frustrated. He didn't like to burden his family, and he also refused many in-home services. My hope once I finish is that I will be able to provide for my grandpa and help him adapt to his environment, so he doesn't have to struggle as much. 
What is your ultimate goal for where you want to work?
One day I hope to work in pediatrics because I love babies, but I'd also like to work with athletes and travel around the world. 
What do you like to do for fun?
I like to spend time with my family, go on small adventures with my boyfriend, and wrestle for fun. 
Best study tip?
One of my best study tips is not to overwhelm yourself multiple hours a day. Start studying early and take lots of breaks when needed. Don't be afraid to ask your teachers for clarifications because the people around you probably have the same question and don't want to ask. 
Interested in becoming an Occupational Therapy Assistant?
If you or someone you know is interested in becoming an Occupational Therapy Assistant, visit the Stanbridge University OTA Program for more information.
Stanbridge Students – we want to hear from you!
Email media@stanbridge.edu to share your story!