Stanbridge College Students, Faculty, and Staff Raise $1507.42 for Free Wheelchair Mission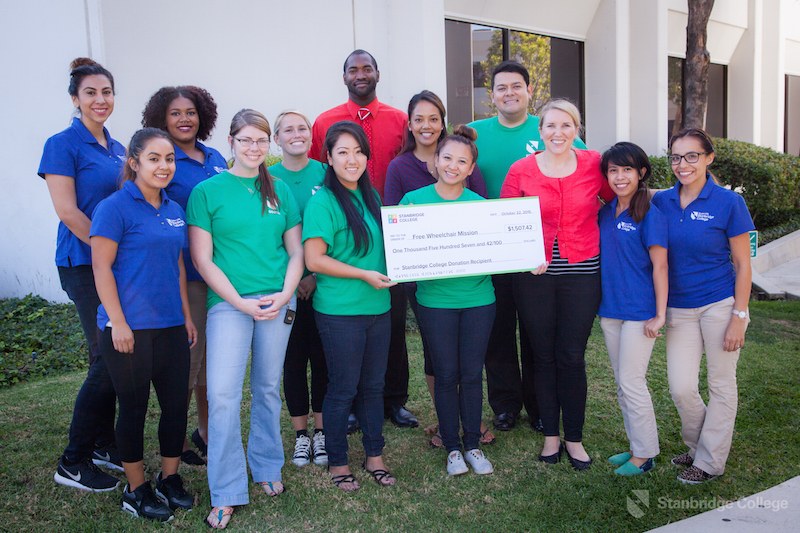 A plastic lawn chair. A bicycle wheel. Simple items that one might easily throw away are repurposed for remarkable use by a humanitarian nonprofit organization called Free Wheelchair Mission. Designed with limited resources in mind, and built using donated materials, Free Wheelchair Mission creates unique, durable wheelchairs and brings them to people with disabilities in developing nations. Adults and children who once had to crawl on the ground are given the gift of independence, dignity, and hope through their newfound mobility.
Led by students in the Stanbridge Student Occupational Therapy Association (SSOTA), the Stanbridge community hosted several fund-raising activities and raised $1507.42 – enough to build nearly 20 wheelchairs. Chelsea DeFoorte, National Ambassador Manager for FWM, visited Stanbridge to accept the donation on the organization's behalf.
"Our contributions make an impact," said one student. "The wheelchairs don't cost much, and they change lives."
To date, Free Wheelchair Mission has distributed over 870,000 wheelchairs in 91 countries.
Deepest thanks to the Stanbridge College community for your commitment to service, leadership, and contribution to those in need.
About Free Wheelchair Mission
Free Wheelchair Mission has been providing wheelchairs to those in need around the world since 2001, offering dignity, independence and hope through the gift of mobility. FWM continues its focus and commitment on becoming a leading provider of mobility in developing nations, but beyond placing recipients in a chair, they strive to bring transformation that opens doors to education, employment opportunities and community that these individuals only dreamed of before receiving the gift of mobility.
Continue to REACH
To learn more about Free Wheelchair Mission and how you can help, please visit www.freewheelchairmission.org.
For more information on Stanbridge College REACH, please visit www.stanbridge.edu/reach and learn how you can get involved in your community!