First Synthetic Human Cadaver Lab on US West Coast Opens at Stanbridge College
Stanbridge College has opened the first Synthetic Human Cadaver Lab on the West Coast as a training resource for its students. The lab includes two synthetic full-body human cadavers including bones, muscles, blood vessels, veins and organs from SynDaver™ Labs. It also includes six isolated arm and six isolated leg models. Stanbridge College is the first higher education institution in California and the West Coast to use the SynDaver synthetic human cadaver for medical training.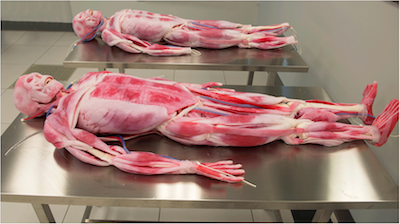 Designed to represent a live human, this technology is used to assist in medical and surgical simulation training in hospitals and the U.S. military. The synthetic human cadavers include removable and replaceable bones, muscles, ligaments, blood vessels, veins, respiratory, digestive, and other body systems. Currently, adult and newborn SynDaver™ Synthetic Humans are subjects of open-heart surgery experiments and other advanced surgical simulated procedures at Cedars-Sinai Medical Center in Beverley Hills. They have also been featured in the Discovery Channel's Mythbusters to test how different experiments affect the human body.
According to Dr. Christopher Sakezles, President, Chief Technology Officer of SynDaver Labs, "The SynDaver Synthetic Human is the most sophisticated synthetic representation of human anatomy that the world has ever seen. We are very excited to partner with Stanbridge College to expand its use in education to the West Coast."
"Stanbridge College is pleased to offer this state-of-the-art technology to our students' educational experience," stated President of Stanbridge, Mr. Yasith Weerasuriya. "We feel this addition will help our graduates enter the workforce with greater confidence and an in-depth understanding of how the body functions – the skills employers are looking for."
"Understanding how the body works is directly related to how the body is built; therefore, to understand its function a student must first understand its structure," quoted Ms. Elizabeth Peyton, MPT, PT, Program Director of the Physical Therapist Assistant program at Stanbridge College. "The use of synthetic human cadavers provides students at Stanbridge College an excellent opportunity to build knowledge of gross human anatomy. This is truly an exciting addition to the extensive resources and labs available at the college.
Stanbridge College offers students of its Nursing and Allied Health degree programs access to several technologically advanced skills labs on campus. The Nursing Simulation Lab features six high fidelity simulation manikins with pre-programmed patient scenarios such as cardiac arrest, stroke and birth to teach and test skills. Electronic Medical Record stations also enable students to master industry-relevant skills and critical healthcare technology. The Master of Science in Occupational Therapy program includes the Advanced Driving Simulator Lab, the first in Orange County which allows for detailed hands-on driving assessments and treatments with patients who have experienced strokes and other neurological incidents.
To learn more about Stanbridge College, please visit www.stanbridge.edu.