Pet Food and Supplies Drive for Furry Friends in Need at Stanbridge College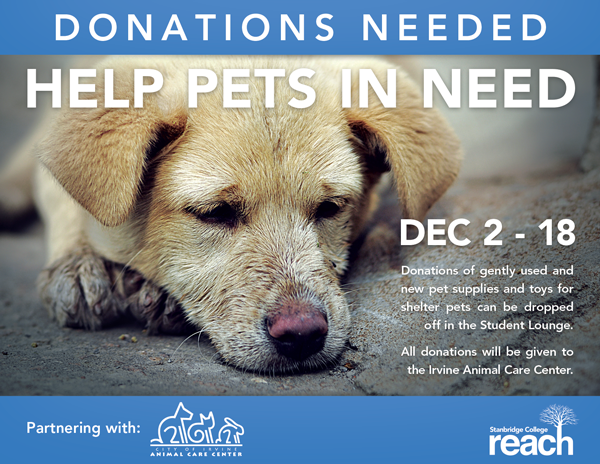 Stanbridge College REACH is hosting a two-week long Pet Food and Supplies Drive for homeless or shelter pets in Irvine starting Monday, December 2nd. Help us take care of our furry friends this holiday season by donating new or gently used items to the Irvine Animal Care Center.
The Irvine Animal Care Center is the largest pro-humane animal shelter in Orange County, and receives nearly 4,500 animals each year. These animals are displaced from their homes or discarded from owners who can't afford or manage them.
Donation Drive Details:
Date: Monday, December 2 – 16, 2013
Location: Stanbridge College Student Lounge
Donations of gently used and new pet supplies and toys for shelter pets can be dropped off in the Student Lounge.
If you are able, we are encouraging donations including:
– Food: dry or canned for dogs and cats, smooth peanut butter, or soft and hard dog treats
– Cat toys: ping pong balls, jingle balls, scratchers, cat nip
– Dog toys: chew toys, plush dog toys, squeaky toys
– Kennel supplies: cat litter, towels, blankets, leashes, harnesses, heating pads, trash bags
The Irvine Animal Care Center needs a wide variety of supplies for all aspects of their operations. If you are able to, please donate items for their animals as well as supplies for their office and daily operations including sharpie pens, post-it notes, clip boards, dish soap and hand sanitizer.
To view a complete list of donation items please click here for the Irvine Animal Care Center Wish List.
We hope you will join us in contributing to the aid of Orange County animals in need.