Stanbridge Nursing Student Granted Norma Ford Memorial Scholarship by CAPPS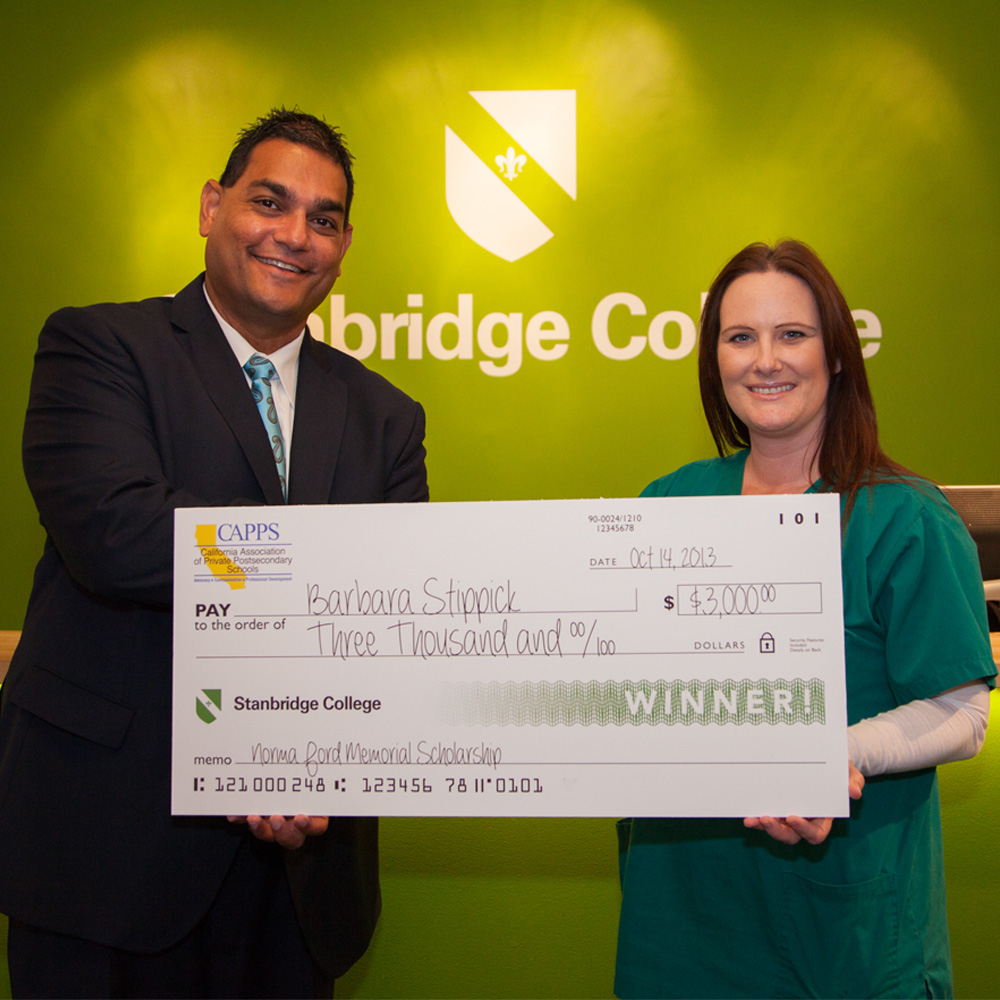 Barbara Stippick, nursing student at Stanbridge College received the Norma Ford Memorial Scholarship for Nursing from the California Association of Postsecondary Private Schools (CAPPS) to help fund her educational goals. The scholarships were awarded based on factors including the student's goals and accomplishments in the nursing field.
Stanbridge College spoke with Ms. Stippick, current student in the full-time nursing program, FTX, about the scholarship and her determination to become a hospice care nurse.
Stanbridge College: What is your inspiration for becoming a nurse?
Barbara Stippick: My path to nursing has been an amazing journey of the soul and has had a profound impact on my life. My journey started in May of 2011 when my mother was diagnosed with pancreatic cancer. I had the pleasure and honor to care for her from the day of her diagnosis to the end of her life when she made her beautiful transition in late November the same year. While taking care of my mother I found myself naturally logging the medication that was administered, charting her temperature and elimination habits on a daily log that I created so I could communicate with her doctors more effectively. Then it hit me! I am a nurse at heart to the very core of my being. I became fully aware that this was my path and what I was supposed to be doing. It was the first time I felt purpose and passion in the work that I was doing.
SC: How important is the Norma Ford Memorial Scholarship to you?
BS: Is it with great gratitude that I accept this scholarship. It could not have come at a better time for me. After a recent layoff, I switched my nursing program from part-time to full-time and this scholarship is helping to ease the financial burden I was faced with. On numerous occasions, I found myself in the VN administration office scared, crying, and overwhelmed. The nursing instructors listened to me, calmed me down, and encouraged me. I can still hear my Program Director, Ms. Kim Martin, assure me, "You WILL get through this."  Now, I know I can. Now I see it was all a blessing in disguise as I am able to graduate 6 months earlier than expected.
SC: How did you feel when you heard you were a recipient of the scholarship?
BS: I was very excited and thought that it could not have come at a better time. This honor really lead me to believe that there is a Power greater than myself that is providing me with opportunities and removing obstacles, keeping me on track to do this work. For that I am grateful.
SC: Why are you interested in hospice care as a future career?
BS: I believe my ability to tune in and connect with the patients' needs directly affects the care they receive and results in their overall well being. I have great respect for the hospice philosophy and have a special connection with those I have encountered who are about to make their transition.  For me this is a very Spiritual experience. One that I feel honored to be a part of
SC: What do you hope to achieve after graduation?
BS: Now that I am at the beginning of term 4 in the Vocational Nursing program at Stanbridge College my eyes are opening to the never-ending possibilities for my future as a nurse. While I have continued to be inspired through the course of my VN program I am deeply motivated to further my career as a nurse. It is my desire to make a difference in people's lives. My next goal after graduation is to continue forward into an RN program.
The California Association of Private Postsecondary Schools (CAPPS) is the only California State Association representing the many diverse kinds of Private Postsecondary Schools in California. CAPPS has a membership of more than 300 institutions; including for-profit, non-profit, religious exempt and approved only Institutions. These schools and colleges are nationally or regionally accredited or approved by the State of California's Regulatory Agency—the Bureau of Private Postsecondary Education (BPPE)—to offer educational services. CAPPS' works to ensure that the needs of the entire sector—from small approved schools to large publicly traded institutions—are met from a policy, educational and business perspective. For information, please visit: www.cappsonline.org.
On October 11, 2013, Ms. Stippick, along with the other recipients of CAPPS Memorial Scholarships were honored at the CAPPS 29th Annual Conference at the Langham Huntington Hotel in Pasadena. The scholarship memorialized Norma Ford, a long-time CAPPS Financial Aid Trainer, CAPPS Board Member and one of the original Inductees into the CAPPS Hall of Fame in 2009. Ms. Ford worked in the private career school sector for over 28 years and over the last two decades was the primary trainer for the CAPPS financial aid workshops. To learn more about the CAPPS Memorial Scholarships please visit: http://www.cappsonline.org/scholarships-awards/previous-memorial-scholarship-recipients.
To learn more about the Vocational Nurse Diploma at Stanbridge College, please visit www.stanbridge.edu.